Kenai Brown Bear Committee
Working Together to Keep Our Communities Safe and Our Bears Wild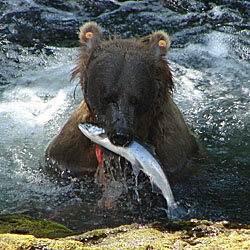 In 1999, the Kenai Peninsula brown bear conservation strategy was developed by a group of stakeholders. The recommendations of this conservation strategy included four broad areas; human-bear interactions, land planning, research, and public education and outreach. An outcome of this public process was the formation of the Kenai Brown Bear Committee (KBBC) in 2004.
The KBBC was organized to continue the work of the stakeholder's group. This committee is focused on decreasing the number of brown bears killed in defense of life or property (DLP); increasing understanding about the importance of conserving brown bear habitat; and increasing the public's knowledge about brown bears in general. The group includes representative with diverse interests including tourism, hunting, fishing, and work to reach the goals of conservation groups and government agencies.
This website was designed to help you learn more about the KBBC and how you can help to keep our neighborhoods safe and our bears wild.
The Kenai Brown Bear Committee consists of representatives of the following:
AK Department of Fish & Game
AK Department of Natural Resources
US Forest Service
US Fish & Wildlife Service
US National Park Service
Kenai Peninsula Borough
Alaska Resource Management
Safari Club International
Alaska Audubon Society
Defenders of Wildlife
Kenai Peninsula Tourism Marketing Council
Kenai Convention & Visitors Bureau
Soldotna Visitors Center
The Wilderness Society
Alaska Center for the Environment
Bear Awareness Month
April is when bears begin emerging from dens and is when people should check for bear attractants. Read the governor's proclamation declaring April "Bear Awareness Month" (PDF 159 kB).
KBBC Contact
Jeff Selinger, Soldotna, (907) 262-9368, jeff.selinger@alaska.gov