Becoming an Outdoors-Woman (BOW)

Frequently Asked Questions
What is BOW?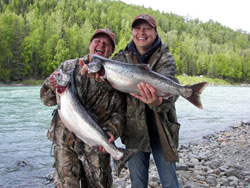 Becoming an Outdoors Woman is an international program usually licensed to US State and Canadian Province Fish & Game agencies such as the Alaska Department of Fish and Game. The BOW program has also expanded to Australia and the Bahamas. Becoming an Outdoors-Woman weekend workshops offer hands-on classes to introduce outdoor skills to participants. All classes are at the beginner level, geared toward individuals who have little to no experience in the subject matter. The workshop classes focus on three areas: shooting and hunting, fishing, and other outdoor activities, many of which are useful in the pursuit of fishing and hunting adventures.
Who may attend a BOW weekend workshop?
BOW workshops are designed primarily for women, but anyone 18 years of age or older may participate. Men can and do attend BOW workshops.
What are BOW Classes?
BOW Classes are topic-specific courses targeted towards building on the beginner's skills, teaching more advanced skills, and may be conducted almost entirely in an outdoors setting. We recognize that becoming a confident, independent outdoors person is a process which is developed over time. BOW classes are venues to practice and hone these basic skills in the real world, while still having supportive instructors on hand to coach and encourage you.
BOW Classes may also focus on a skill that takes more time to teach than is available in a traditional BOW weekend workshop, such as knife making, rod building, saltwater fishing, or small and large game hunting. BOW Classes may take place in one afternoon, occur over a weekend, or take place over several evenings.
Who may attend BOW Classes?
It depends on the individual class. BOW Class offerings have included workshops for families, anyone over the age of ten, and strictly for adults over the age of eighteen. Please check the requirements for individual BOW classes that you're interested in before you register and contact us if you have any questions.
Can my daughter attend the BOW workshop with me?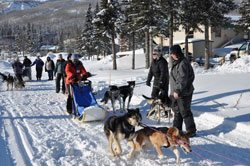 No one under the age of eighteen may attend a BOW weekend workshop. If your daughter is eighteen years of age or older you may attend a BOW weekend workshop together. Each Beyond BOW event has its own age requirements, which means children under eighteen may potentially be allowed to attend. Please be sure to carefully check these requirements before registering for any workshop.
We want participants to be able to fully focus on and engage in their own learning experiences while attending. The most important reason minors are not allowed to attend a BOW weekend workshop is that program research has found that when children are at workshops it changes the experience for all of the adult women present. Women behave differently than they would if a child were not present and tend to slip into the "Mom" role, even if the attending child is not their own.
Where do I stay while attending BOW?
Winter workshops are traditionally held at Victory Bible Camp in Chickaloon near Palmer. This facility is outdoorsy, yet comfortable. Most participants stay in cozy cabins, but indoor plumbing and showers are readily accessible.
Summer workshops are traditionally held at Lost Lake Scout Camp at mile 306 Richardson Highway between Fairbanks and Delta Junction. Participants may choose to stay in rustic cabins or they may bring their own tent. Indoor plumbing and showers are available, but most of the rest stations are still of the outhouse variety.
Are meals provided at BOW workshops?
At all workshops meals are provided and cooked by camp staff. Again, the focus for the weekend is learning in a comfortable atmosphere.
How can I get involved as a BOW volunteer?
Volunteers are essential for making any Alaska BOW event a success. The program has a loyal following of people who share their time and talents, but we do sometimes have volunteer turnover or openings as we introduce new workshop offerings. If you would like to contribute to the program, there are many ways to do so including, but not limited to, instructing classes. It takes a substantial number of people to make a BOW workshop go smoothly. We are in need of volunteers who can act as expeditors, provide camp and clerical support, provide or solicit donations and door prizes, along with a variety of other skills. Typically, the Interior hosts a summer workshop, Southcentral hosts a winter workshop, Southeast Alaska hosts a spring workshop, and Beyond BOWs occur throughout the year in all regions. Please contact the coordinator nearest you if you'd like to join our team!

Interior Alaska Coordinator: dfg.dwc.interiorbow@alaska.gov
Southcentral Alaska Coordinator: dfg.dwc.southcentralbow@alaska.gov
Southeast Alaska Coordinator: dfg.dwc.southeastbow@alaska.gov
How can I receive BOW updates?
Click here to sign up for BOW e-mail lists.
Click here for our facebook page!
How much does a BOW weekend workshop cost?
BOW workshops may vary slightly from year to year, but on average $275 covers room, board, instruction, and instructional materials for the weekend workshop. Some classes, such as Fur Sewing and Field Dressing Big Game, have additional fees because the supplies for them cost more.
If I want to cancel my registration, can I get a refund?
Each BOW workshop has a deadline for cancellation. If you cancel prior to that date, your registration fee will be refunded minus a $50 processing fee (no exceptions). Registrants who cannot attend but do not cancel before the deadline will not receive a refund. If you are unable to attend a workshop but have already paid the registration fee, you may transfer your registration to a friend or relative upon approval of the workshop coordinator.
BOW Classes Cancellation Policy
If you cancel more than 24 hours prior to a BOW Class (does not apply to workshops) you will be refunded your registration fee. If you cancel less than 24 hours prior to class, no refund will be issued.