Gene Conservation Laboratory

Kid's Page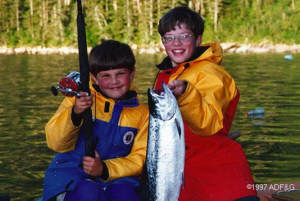 Hi kids! This web page is about fish, fish and the State of Alaska. If you're grade-school age, then this page is for you. If you are older than that, you might still be interested; but, you better get the permission of a grade-schooler to continue. In this page you will find pictures of Alaskan kids catching all kinds of fish. You will read fishy stories, including the salmon story.
This page will introduce you to the wealth of fish resources that we all can enjoy. Take a look at the wealth of a state such as Alaska with diverse fishery resources, and think about the role that biodiversity can play to help sustain those resources for our future. We would like to include your pictures and stories on this page; so if you like, please contact us. We will add your pictures and stories as time and space allow.
Alaska Department of Fish and Game
Commercial Fisheries Division
Genetics Section
333 Raspberry Road
Anchorage, Alaska 99518
E-Mail: dfg.dcf.webmaster-genetics@alaska.gov
If you don't know what biodiversity is right now, don't worry. A lot of adults don't really know, either. Hopefully an understanding of biodiversity will grow within you as you consider the different kinds of fish and stories about fish that you find on this page. Please send your ideas if you want to contribute.
---
Other Links of Interest to Kids: