Information by Fishery

Statistical Area Charts
This series of ADF&G groundfish/shellfish statistical area charts became effective in 2009 for groundfish fisheries statewide and for shellfish fisheries excluding Southeast Alaska. These new charts should be used for determining statistical areas for filling out fish tickets from this date forward. Older versions of the charts should be retained for doing historic harvest analysis.
Each of these charts may be downloaded as a PDF file by clicking on any of the designated map area NUMBERS shown in the Index Map on the left (or by using the PDF links below the map).
To download a PDF file, RIGHT-CLICK on the chart link NUMBER in the map itself (or on the specific link below the map) and choose "Save Link As".
Tips
To print select areas of the large PDF charts it is recommended that PDF files be downloaded to your PC — all viewing and printing can then be done in your standalone Adobe Reader program rather than inside a browser window (utilizing a PDF plugin).
Groundfish and Shellfish Statistical Area Charts Statewide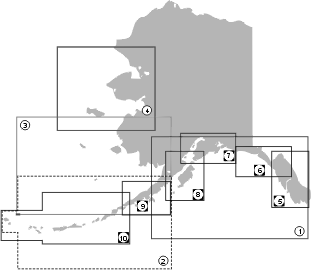 Salmon and Shellfish Statistical Area Charts
Southeast Alaska & Yakutat
Salmon Statistical Area Charts
Central Region
Bristol Bay Salmon Statistical Area Maps
Prince William Sound Salmon Statistical Area Maps
Arctic-Yukon-Kuskokwim Region
Westward Region
---

Adobe Acrobat PDF files require a free viewer available directly from Adobe.