Delta Bison Hunter Information
Introduction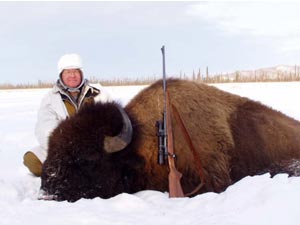 If you are a drawing permit winner for a Delta bison hunt, congratulations! You will receive an orientation packet in the mail from the Alaska Department of Fish and Game (ADF&G). As indicated in that packet, you must study for, and pass, the Delta Bison Hunter Orientation Quiz on this website and receive your certificate of completion in order to be eligible to hunt. Please read the following pages carefully. Hunting free-ranging, wild bison in Alaska is one of the most unique big game hunting opportunities in North America. The information on these pages is designed to help prepare you for your hunt.
Hunting bison can be challenging. Keep the following factors in mind to ensure your hunt is successful and safe:
Bison are herding animals. The chance of killing or wounding multiple animals increases when trying to take an animal from a group. It can often be hard to get a single animal to separate from the herd.
Bison are massive, vigorous animals and can be difficult to kill.
Unless you have an either-sex permit, you must distinguish cows from bulls.
The hunting season extends through winter; low light conditions, extreme cold, wind and snow add to the challenge.
The key to successful bison hunting is taking the time to do it right. Our goal is to have no illegal kills and no wounded animals.