Images by Area
Last modified on Jan 21, 2021
Salmon have different growth patterns, and some of these patterns are unique enough to identify origin of a stock. The number of circuli in the freshwater zone and the number of circuli in the first ocean zone have been used to separate Asian from western Alaska sockeye salmon (Mosher 1963). More freshwater circuli and fewer first ocean circuli generally indicated western Alaska origin. Columbia River Basin Chinook salmon were classified by hatchery or natural spawners with good certainty (71% accuracy) using a suite of circuli measurements in scale pattern analysis (Schwartzberg and Fryer 1993). Chum salmon caught in the eastern Bering Sea and Aleutian Islands were identified to region of origin within the North Pacific with 83-92% accuracy using scale pattern analysis (regions of origin: Japan, Russia, western/central Alaska, northern southeast Alaska, southern southeast Alaska and British Columbia, and Washington; Patton et al. 1998).
Based on variables used in scale pattern analyses, some scale characteristics by area and population include:
Amount of freshwater growth
Variation in size of ocean annuli
Click on the text box to view scale patterns from an area.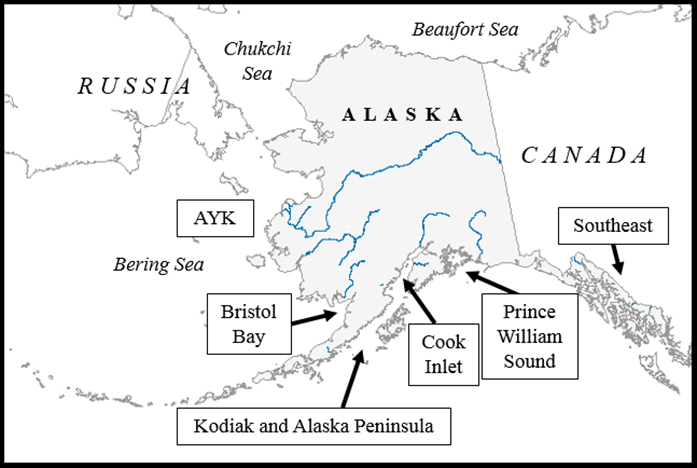 References
Mosher, K. H. 1963. Racial analysis of red salmon by means of scales. International North Pacific Fisheries Commission Bulletin 11: 31-56.
Patton, W. S., K. W. Myers, and R. V. Walker. 1998. Origins of chum salmon caught incidentally in the eastern Bering Sea walleye pollock trawl fishery as estimated from scale pattern analysis. North American Journal of Fisheries Management 18(3): 704-712.
Schwartzberg, M., and J. K. Fryer. 1993. Identification of hatchery and naturally spawning stocks of Columbia basin spring Chinook salmon by scale pattern analyses. North American Journal of Fisheries Management 13(2): 263-271.