Rod Loaner Program
Rods can be borrowed and returned from an ADF&G office listed below between 8am and 5pm, Monday through Friday, excluding state and federal holidays.
We Loan Anglers Fishing Gear Free of Charge!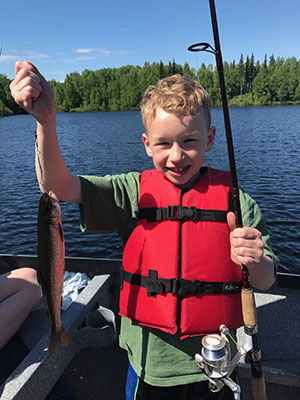 Many Alaska Department of Fish and Game (ADF&G) offices have fishing rods to lend. The type of fishing rods and the extent of gear in the Rod Loaner Program is dependent upon the local fishing opportunities and fishing conditions.
What You'll Need
A current sport fishing license for Alaska residents 18 years of age or older, or non-residents 16 years of age or older. It's quick and easy to buy your license online.
Terminal tackle (hooks, lures, weights, etc.). If you need suggestions, we can help!
A copy of the latest Sport Fishing Regulations booklet. Regulations are available at any ADF&G office, at many businesses across the state, as well as from our Sport Fishing Regulations webpage.
Proper attire (please dress for the conditions).
A positive attitude (sometimes fish just don't bite).
Things to Remember
The equipment is to be used for legal sport fishing activities.
It is the borrower's responsibility to ensure that all parties using State of Alaska equipment have a current valid Alaska sport fishing license if they are required by law to purchase one.
It is the borrower's responsibility to ensure they are familiar with the fishing regulations and emergency orders that apply to their fishing destination.
The borrower may check out no more than 3 fishing rods at a time. (Case by case exceptions can be made for organized groups such as the Boy Scouts).
Borrowers may only check out the same type of equipment twice per year, e.g. spinning rods and ice fishing gear.
The borrower is responsible for returning the equipment after a maximum of 3 days. Equipment loans cannot be extended and must be returned to the same office that the equipment was loaned from during normal business hours. Failure to return equipment after 3 days of use will result in borrower information being turned over to the proper authorities. If unexpected circumstances arise, the borrower will immediately notify the ADF&G office that lent the equipment.
Equipment cannot be reserved.
The borrower understands that the State of Alaska, Department of Fish and Game, is not responsible for any injuries or damages caused or incurred by use of this equipment.
The equipment may not be used for monetary gain of any kind, including, but not limited to, charging other individuals to use this equipment, or using it for personal, business, or organizational financial gain.
Participating Offices and Available Equipment
Anchorage:
Light duty spinning rods (good for fishing stocked lakes)
Medium duty spinning rods (good for fishing stocked lakes and most salmon)
Ice fishing rods (good for ice fishing in the area)
Ice augers (hand-crank)
Ice fishing essentials (buckets, ice scoops, jigs)
Contact:
Shane Hertzog
333 Raspberry Road
Phone: (907) 267-2221
Email: shane.hertzog@alaska.gov
Delta Junction:
Medium duty spinning rods (good for fishing stocked lakes, Northern pike, and most salmon)
Tackle boxes (with spinning tackle, spoons)
Ice fishing rods (good for ice fishing in the area)
Ice augers (hand-crank)
Ice fishing essentials (ice scoops, jigs)
Contact:
Brandy Baker or Ellie Mason
Mile 266.8 Richardson Highway
Phone: (907) 895-4632
Email: brandy.baker@alaska.gov or ellie.mason@alaska.gov
Dillingham:
Medium and heavy-duty spinning rod/reels (good for salmon fishing)
Contact:
Lee Borden
Phone: (907) 842-2427
Email: lee.borden@alaska.gov
Fairbanks:
Light duty spinning rods (good for fishing stocked lakes, Arctic grayling)
Ice fishing rods (good for ice fishing in the area)
Ice fishing essentials (ice scoops)
Contact:
Tim Mowry
1300 College Road
Phone: (907) 459-7346
Email: tim.mowry@alaska.gov
Glenallen:
Light duty spinning rods (good for fishing stocked lakes)
Medium duty spinning rods (good for fishing stocked lakes and most salmon)
Contact:
Tracy Hansen or Mark Somerville
186.3 Glenn Hwy, Glennallen, AK 99588
Phone: (907) 822-3309
Email: tracy.hansen1@alaska.gov or mark.somerville@alaska.gov
Homer
Heavy duty spinning rod/reels (good for saltwater fishing)
Medium-weight spinning rod/reels
Light-weight rods with closed-faced reels (great for kids)
Ice fishing rods (good for ice fishing in the area)
Ice augers (hand-crank)
Ice fishing essentials (ice ladles, jigs, ice spud)
Contact:
Michael Booz
3298 Douglas Place
Phone: (907) 235-1739
Email: michael.booz@alaska.gov
Juneau/Douglas
Light duty spinning rods
Medium duty spinning rods (good for fishing most salmon)
Contact:
John Driscoll III
802 3rd Street (1st Floor), Douglas
Phone: (907) 465-4270
Email: john.driscoll_iii@alaska.gov
Palmer:
Light duty spinning rods (good for fishing stocked lakes)
Medium duty spinning rods (good for fishing stocked lakes and most salmon)
Heavy duty spinning rods (good for saltwater fishing)
6- and 8-weight fly fishing rods
Ice fishing rods (good for ice fishing in the area)
Ice augers (hand-crank)
Ice fishing essentials (buckets, ice scoops, jigs)
Contact:
1800 Glenn Highway, Suite 2
Phone: (907) 746-6300

Soldotna:
Medium and heavy-duty spinning rod/reels (good for salmon and saltwaterfishing)
Light-weight spinning rod/reels (good for fishing at stocked lakes)
Ice fishing equipment
Contact:
Jenny Gates
43961 Kalifornsky Beach Road, Suite B
Phone: (907) 262-9368
Email: jenny.gates@alaska.gov