Five Salmon Family Challenge Program
The Alaska Department of Fish and Game Five Salmon Family certificate program provides recognition to angling families who catch and document the five species of Pacific salmon commonly found in Alaska. Certification in the program requires all salmon must be:
Legally caught in Alaskan waters (fresh or salt water) open to the public
In compliance with current ADF&G sport fishing regulations
Fish caught out of season, in waters where sport fishing for that species is closed, or with illegal sport fishing means and methods cannot be counted toward the challenge - even if the fish is left in the water while the photo is being taken and is immediately released thereafter.
The program promotes family or group angling participation, proper salmon identification and ethical angling practices. Participants can include members of an immediate family, extended family, "family" groups, or any other class of angling partners. The program is open to all anglers (resident and non-resident) who fish in Alaskan waters.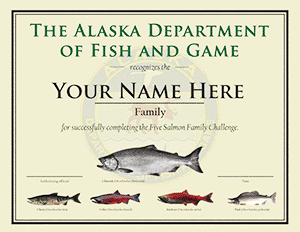 Documenting the catch
Photos documenting family members displaying the salmon are required for each fish. The photo(s) should allow easy identification of the salmon species, show responsible angling practices, and be taken at or near the fishing site.
If you released the fish, please make sure your photo demonstrates responsible release practices, and young anglers are displaying proper safety considerations such as wearing float coats or life vests when near the water.
Submission Process
Only one submission form and photo release is required per family or group. Forms and photos can be submitted in digital or hard-copy format. Forms are also available by contacting the Five Salmon Family certificate coordinator at: ryan.ragan@alaska.gov.
Photo Release:
ADF&G wants to share the accomplishment of families who complete the challenge and may opt to use select images to promote the program or sport fishing in Alaska, such as in flyers, on our website, or on our official Facebook page. Whenever possible, ADF&G will credit the photographer and publish the names of individual(s) appearing in the photo(s). If you do not wish to have your family's photos published, you may still participate in the challenge. To decline publication of your photos, do not include a signed photo release with your submission.
Processing and Approval Process
Each submission will be reviewed by ADF&G staff. If the submission is complete and meets the certificate requirements, an official certificate with the family's name will be mailed to the family household.
Please allow 2 to 3 weeks for processing of submission.
Download Application
The Five Species of Pacific Salmon