Reel Times Newsletter
October 2019
Issue 22
---
River zombies & trout that eat mice - Let's get out and fish!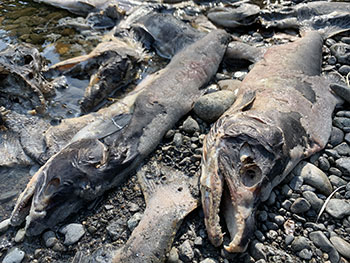 Salmon are amazing creatures.
When adult Pacific salmon leave their marine environment and return to their natal stream, they have one goal in mind, and that is to spawn.
And after they've done their duty, their bodies will deteriorate and ultimately the salmon will die. It's a natural part of the lifecycle of these salmon.
In this issue of Reel Times, we take a look at how decaying salmon actually help bring life to aquatic environments.
We also learn that mouse fly patterns are a go-to on the Kanektok River when targeting hefty rainbow trout, and that it's not too late to hit the freshwaters of Southeast Alaska for some late-season coho and Dolly Varden fishing. Our Southcentral report highlights fall fishing in the Bristol Bay area.
If you have a comment or story ideas for Reel Times, we encourage you to send them our way. You can send comments to ryan.ragan@alaska.gov.
We encourage you to share your fishing story on social media using #wefishak.
Tight lines!
Division of Sport Fish
Alaska Department of Fish and Game
Zombie Fish: How dying salmon bring life to the river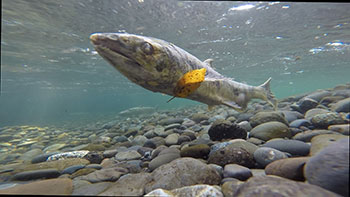 With the cultural craze of zombies dragging themselves through various video games, across the silver screen and right through our collective consciousness, it's time we explore the aquatic equivalent.
Are you aware that there are zombies currently wandering Alaska's rivers, lakes and estuaries? Now before you grab your survival bag and make tracks for your remote cabin to wait out the zombie apocalypse, let us elaborate on the benefit of these particular zombies.
No need to panic here, the zombies of which we speak are simply post-spawn salmon that are slowly succumbing to the inevitable decay that characterizes their final days. They can be seen lazily meandering through the waters of Alaska in the late summer and fall, looking ragged and collecting swatches of fungus along their blushed flanks as they slowly perish. This specific life history quirk can illicit thoughts of sympathy or remorse, but do not despair, the zombies in our waters help to perform a vital function for our watersheds and their inhabitants.
Zombie salmon that have successfully spawned have one more trick up their sleeve to ensure that the habitat in which they were born and to which they returned stays optimal for future generations. The process is called nutrient transport and it's a dying salmon's parting gift to aquatic plants as well as the next generation of fish and invertebrates that sustain life in Alaska's freshwater environments.
Salmon growing and feeding in the ocean accumulate marine nutrients that don't originate in the freshwater environment and bring them along in their body tissue as they migrate to their spawning grounds. Once the post-spawn salmon finally come to rest and begin to decompose, they deposit their collected marine nutrients into the water and soil of their natal streams. This serves to enhance the habitat and enrich the food web that will support their offspring upon emerging from the gravel.
So if you're ever out on Alaska's lakes, rivers and bays in the fall, keep an eye out for the noble salmonid zombies that are seeking their final resting places. These zombies need not be dispatched in defense of your life and property, rather you ought to tip your hat and wish them well as they fulfill their final mission, which has nothing to do with eating brains.
Check Out Regional Updates!
Southeast Alaska – October is a great time to fish in Southeast Alaska freshwater
Don't put your rods away yet! October in Southeast Alaska can be a great time for freshwater fishing. In October, coho salmon can still be found in many freshwater systems with later run timing. Dolly Varden also offer some great fishing opportunities as they return to freshwater after a summer foraging in the marine environment. Many anglers will use brightly colored florescent spoons and spinners as well as brightly colored streamer flies to target coho and Dolly Varden.
Need some advice on good locations to fish this October? Contact your local sport fish management biologist for information on local fishing opportunities. A list of ADF&G offices and contact numbers can be found here: https://www.adfg.alaska.gov/index.cfm?adfg=contacts.main
For those anglers putting their fishing gear away, it's never too early to start planning for next year's successful fishing adventures. Take a moment to clean your rod and reels, loosen your drag, reline reels, dry out and restock your tackle box, maintain boat batteries, anything done now will likely take less time and money than if it's done next spring.
Southcentral Alaska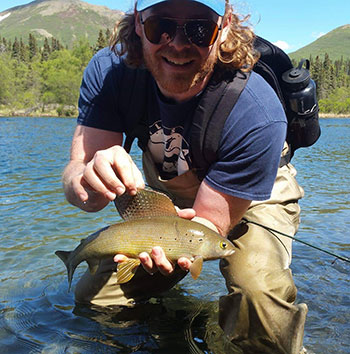 Fall moose season is in the books for Bristol Bay and the weather is becoming increasingly difficult to work around. You may be wondering if there are easily accessible fishing opportunities that are still producing fish. Soon the snow will arrive, and we will have to wait for enough ice to allow for ice fishing. Before you pack up your rods and call it a season, you may want to take one more shot at landing some rainbow trout or Arctic grayling.
Dillingham is the regional hub for Bristol Bay, and one fishing location that is easy to access from town is the Wood River. It can be accessed via boat from Lake Aleknagik or by parking adjacent to the Wood River Bridge and walking and wading along the riverbank. Rainbow trout and Arctic grayling should be holding in the upper sections of the river from the lake outlet down to about a half mile below the bridge. The Wood River is fairly tidal all the way up to the lake, and particularly high or low tides will have some influence on the water level and may impact ease of access and dictate fishing techniques.
Spinners, spoons, flesh flies, streamers, and beads should all be effective in attracting rainbow trout and Arctic grayling during the fall. Be sure to check the Southwest Alaska Sport Fishing Regulations Summary for information on bag limits and terminal tackle regulations.
Interior Alaska – Kanektok River Rainbow Trout Fishing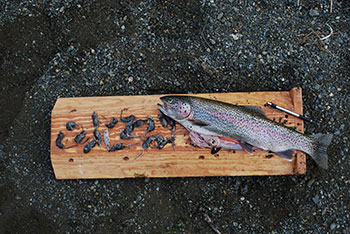 Rainbow trout fishing does not get any better than in beautiful Southwest Alaska in the Kanektok River drainage. Beginning at its headwaters in the Kagati and Pegati lakes in the Ahklun Mountains, the Kanektok River flows for about 100 miles to its terminus in Kuskokwim Bay of the Bering Sea, at the village of Quinhagak, Alaska. The river lies almost entirely within the scenic Togiak National Wildlife Refuge.
A healthy, wild stock of rainbow trout abound in the Kanektok River. Anglers from all over the world travel to this far corner of Alaska to try their hand at catching one of these beauties. These rainbows have been called "leopard trout" due to the plethora of spots covering their bodies.
A good part of successful fishing is using the right gear. For these full-bodied rainbows of the Kanektok River, fly anglers commonly use 9 foot, 5 to 8 weight rods. Sink tip fly lines are not necessary, but help when fishing larger streamer fly patterns like Dolly Llamas, sculpins, wooly buggers, and smolt imitations. For fishing beads or flesh flies, a floating line with a strike indicator will help the angler get a drag free dead drift. Using a small lead split shot about 12" above the fly or bead ensures it sinks to the bottom. When dead drifting egg or flesh imitations a 9' leader is usually used. Streamer flies are fished with shorter and heavier leaders (~4' long).
Rainbows can also be taken on standard dry flies (caddis imitation, mayflies, etc.) or nymphs (stoneflies, caddis, bead head prince, or hare's ear nymphs). One unique way to fly fish rainbows is on the surface using mouse flies. One researcher on the Kanektok River found 16 mice in one rainbow's belly! (see photo).
For spinning tackle, various spinners in size 2 and 3 are usually pretty productive. When fishing spinners it is always a good idea to use a swivel to help prevent line twist. Spoons can be very effective for imitating juvenile salmon and salmon smolt. Regulations on the Kanektok are for only one unbaited single-hook artificial lure. So, you will have to replace those treble hooks with a single hook. Pink or white lead-head jigs (1/8, 1/4 and 3/8 ounce) are also productive.
Once the salmon have started spawning, beads and flesh flies can be fished with a spinning rod or fly rod. They can be drifted with a split shot or fished underneath a slip-bobber setup. As far as fishing rods, reels and line go, a medium-light to medium-heavy rod with appropriate sized reel loaded with 8 to 15-pound test line is sufficient.
Many anglers choose to float the Kanektok River. You can find both guides and outfitters for this wilderness float in either Bethel or Dillingham. Float trips take 7 to 10 days from the headwaters put-in at Kagati/Pegati Lakes. Sport anglers start flying into the guide camps or start their floats in mid-June, and generally the last floats and guided trips occur in early September. Float trips end at the village of Quinhagak, where people then board a small commuter plane to Dillingham or Bethel, and then off to wherever they call home. For other anglers, staying at one of a couple lodges on the river makes for the trip of a lifetime.
Reel Times Tip of the Month
Tip of the month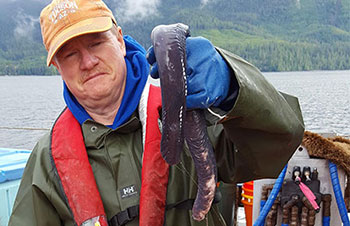 Did you know that one half-pound hagfish can fill a five-gallon bucket with slime in a matter of seconds?
Want to learn more about Alaska's diverse fish species? Check out our species profile on our website at: https://www.adfg.alaska.gov/index.cfm?adfg=animals.listfish
Get out and fish!
"Fly" of the Month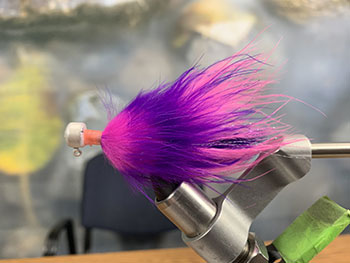 It's time to start thinking about ice fishing.
And this month we are taking a bit of a turn for the "Fly of the Month" by presenting an ice fishing jig. This jig pattern is easy to tie using your fly-tying materials and will work for rainbow trout under the ice or during the open water season, and is a great jig to have while targeting coho salmon during the fall months.
Find a video tutorial on how to tie this jig here: https://www.youtube.com/watch?v=4VnYyT_wCe
Field to Plate – Recipe of the Month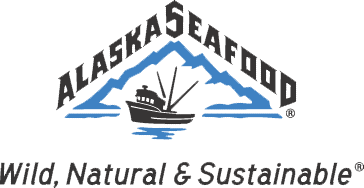 Many people can their salmon as a way to preserve fish for winter storage. And canned salmon is widely available in supermarkets. Our friends at the Alaska Seafood Marketing Institute have a great recipe for canned salmon made into Alaska salmon cake eggs benedict. Enjoy!
https://www.wildalaskaseafood.com/recipesdb/?recipeId=NTYx
If you have any questions about the Reel Times newsletter, please contact Ryan Ragan at ryan.ragan@alaska.gov