Sitka Wildlife Viewing

Whale Park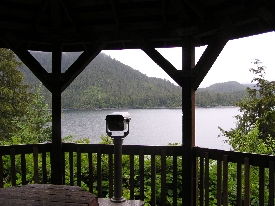 Scan for the blow of a humpback whale and the splash of a sea lion from the overlooks at Whale Park. Covered viewing shelters, public-use fixed binoculars, interpretive signs and life-sized whale art make this more than an ordinary city park. A hydrophone at the park picks up undersea noise; listen live in the shelter closest to the restrooms, or select from available whale sound recordings. "Whale Radio" – 88.1 on the FM dial – broadcasts the hydrophone so you can tune in from your car or hotel, then drive to the park for a look if you hear something interesting.
Species
Harbor Seal
Humpback Whale
Steller's Sea Lion
Hints
Whale Park is an especially good spot to look for humpback whales between September and January.
Facilities
Interpretive Signs
Picnic Facilities
Restrooms
Wheelchair Accessible
Notes
Upper viewing platforms at Whale Park are wheelchair accessible. There are also viewing platforms down nearer to the water as well.
Plan to spend at least: 2 hours - half day
Best Months
█ Best Month
Best Month

Jan

uary

Best Month

Feb

ruary

Mar

ch

Apr

il

Best Month

May

Best Month

Jun

e

Best Month

Jul

y

Best Month

Aug

ust

Best Month

Sep

tember

Best Month

Oct

ober

Best Month

Nov

ember

Best Month

Dec

ember
Directions
Whale Park is four miles east of downtown on Sawmill Creek Road.
Contact
Sitka Convention and Visitor's Bureau - (907) 747-5940 or http://www.sitka.org
Sitka Parks and Recreation - http://www.cityofsitka.com/parks/parks.htm
Additional Information