Sitka Wildlife Viewing

Halibut Point State Recreation Site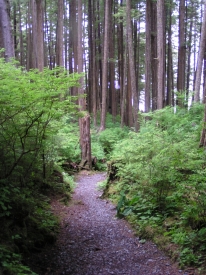 The Halibut Point State Recreation Site is often a good spot from which to view Sitka's annual springtime herring spawn. Pacific herring lay up to 20,000 sticky eggs (or roe) per fish in protected intertidal and subtidal waters, usually in late March and early April. After the lean months of winter, these herring and their eggs herald the arrival of spring for birds, marine mammals, and people. Watch for bald eagles, red-breasted sapsuckers, hairy woodpeckers, varied thrushes, marbled murrelets, scoters, black oystercatchers and other birds throughout the summer. There is also good tidepooling here at low tide.
Species
Black Oystercatcher
Eagles
Marbled Murrelet
Pacific Herring
Surf Scoter
Woodpeckers
Hints
Look for bald eagles in the trees on the island just off shore of Halibut Point.
Facilities
Hiking Trails
Picnic Facilities
Restrooms
Notes
The Sitka State Parks office is located at Halibut Point State Recreation Site.
Plan to spend at least: 1 - 2 hours
Best Months
█ Best Month
Jan

uary

Feb

ruary

Best Month

Mar

ch

Best Month

Apr

il

Best Month

May

Best Month

Jun

e

Best Month

Jul

y

Best Month

Aug

ust

Best Month

Sep

tember

Oct

ober

Nov

ember

Dec

ember
Directions
Halibut Point State Recreation Site is four miles west of town on Halibut Point Road.
Contact
Alaska State Parks - (907) 465-4563 or http://www.dnr.state.ak.us/parks/units/sitka.htm