Palmer Hay Flats —
State Game Refuge
Fish and Wildlife
Birds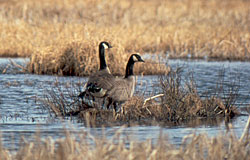 Tens of thousands of dabbling ducks—including northern pintails, mallards, green-winged teal and American wigeon—and thousands of diving ducks—primarily greater scaup along with canvasback, common and Barrow's goldeneyes, common and red-breasted mergansers and buffleheads—arrive on the Hay Flats in mid-April through May on their way to northern breeding grounds. Some ducks remain through the summer for nesting, which occurs primarily where the marshes meet brushy areas. In the fall, these same species once again move through the Hay Flats, stopping to feed on their way south. Red-necked and horned grebes are also common migrants and breeders in the refuge.
Three species of geese also heavily utilize the Hay Flats during migration—the lesser Canada, greater white-fronted (including the tule subspecies), and snow goose. Canada geese are the most abundant of these migrants, attracted by the tidelands of Coffee Point and Palmer Slough, as well as by adjacent agricultural fields in the Matanuska-Susitna Valley.
During the spring and fall, thousands of trumpeter and tundra swans frequent the Hay Flats, while a few pair of trumpeter swans may nest on refuge lakes during summer. The Coffee Point area and marshes south of Cottonwood Creek are most favored by these great birds. During spring and fall migrations, sandhill cranes stage on drier more isolated areas of the refuge and a few pairs remain during summer to breed.
Shorebirds arrive by the thousands in spring to feed on the mudflats during their northerly migration and they return in smaller more scattered numbers in mid to late-summer as they migrate back south. Several species—including semipalmated plovers, lesser and greater yellowlegs, several species of sandpipers, red-necked phalaropes, Wilson's snipe and short-billed dowitchers—remain and nest in the refuge.
Upland birds including song birds and game birds are found in forested and brushy areas throughout the refuge.
For a complete list of birds found in the refuge, download a bird checklist (PDF 526 kB) and review Appendix D of the Palmer Hay Flats State Game Refuge Management Plan (PDF 624 kB).
Mammals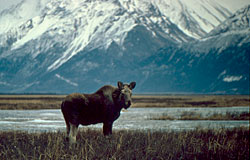 In a large portion of the refuge, wet meadows and marshes are interspersed with islands of spruce trees, which support a major calving and wintering ground for the Matanuska Valley moose population. In heavy snow years, as many as 500 moose have been observed in the refuge and adjacent areas and motorists on the Glenn Highway have reported seeing as many as 40–100 moose at one time.
Muskrats are the most abundant furbearer and are eagerly sought by trappers during the winter months. Beaver are also observed in certain parts of the refuge. Sloughs and marshes provide excellent feeding and denning habitat for both of these aquatic rodents.
Black bear, coyote, red fox, mink, least weasel, ermine, snowshoe hare, lynx, river otter, and a variety of small rodents, shrews and voles make the refuge their home. Brown bears, while observed on the refuge in most years, occur infrequently and wolves are occasionally observed.
Fish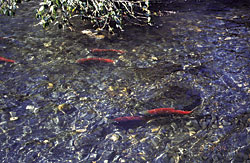 Both resident and anadromous (sea-run) fish are found within the refuge. Wasilla Creek and its tributaries (Rabbit Slough and Spring Creek), Cottonwood Creek, Matanuska River and Knik River support the majority of the fisheries resources in the refuge. Other waters, including the refuge's extensive marshes and other wetlands, undoubtedly contain other small fish species such as Alaska blackfish, juvenile (fry) coho and sockeye salmon, three and nine-spined sticklebacks and sculpin.
Wasilla Creek and its tributaries support a run of coho salmon and relatively small runs of sockeye, Chinook, chum and pink salmon, as well as resident populations of stickleback, sculpin, Alaska blackfish and Dolly Varden. Coho salmon are the most abundant anadromous species in this drainage with annual average runs of approximately 5,000 fish. Spring Creek provides primarily important rearing habitat for juvenile salmon and resident fish species, especially juvenile coho salmon.
Cottonwood Creek supports sockeye and coho salmon with annual average runs of 15,000 to 25,000 fish and 5,000 fish, respectively. Cottonwood Creek also supports resident rainbow trout, stickleback, sculpin and Dolly Varden.
The Matanuska River and Knik River support large numbers of anadromous Pacific salmon (coho, sockeye, Chinook, chum and pink) and resident rainbow trout and Dolly Varden. The Knik River also supports resident whitefish. Most salmon in these rivers migrate through the refuge to spawn farther upriver or in tributaries outside the refuge boundary. A relatively small number of coho, pink and chum salmon spawn in clear water sloughs and areas of upwelling along the Matanuska River.