Palmer Hay Flats —
State Game Refuge
Reflections Lake Discovery Day 2022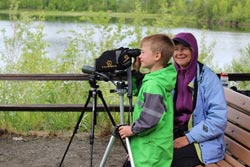 When: Saturday, June 11th, 12pm to 4pm.
Cost: Free and open to the public. All ages encouraged.
Where: Reflections Lake, Palmer Hay Flats State Game Refuge - located at Mile 30.6 along the Glenn Highway. To reach this site, exit the Glenn Highway at the "Knik River Access" exit and follow the frontage road along the west side of the highway. Approximately 32 miles northeast of downtown Anchorage and 11 miles south of downtown Palmer and Wasilla, this site is the most easily accessed area of the refuge.

Event: Help celebrate one of Palmer's popular wildlife viewing areas at this free annual event. This family-friendly nature festival brings you birding stations along the boardwalk, live salmon smolt release, bear spray demonstration, hands-on nature activities for kids, fly tying practice, fly fishing demonstrations, and more!
A food vendor will be on site; parking available nearby; restrooms and entire facility are accessible to those in wheelchairs.
For more information, contact Sierra Doherty or Olivia Sasser at sierra.doherty@alaska.gov or olivia.sasser@alaska.gov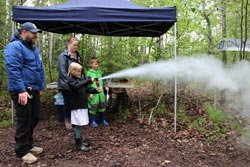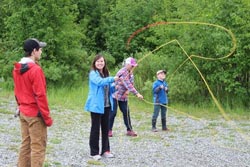 SPECIAL NOTE: We endeavor to make this event as safe as possible. All activities will be outdoors and we encourage participants to socially space themselves appropriately, take other precautions as they deem appropriate, and please be respectful of others.