Minto Flats —
State Game Refuge
Fish and Wildlife
Birds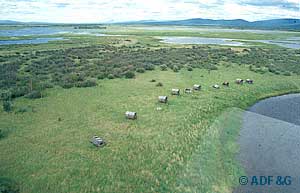 Minto Flats is one of the highest quality waterfowl habitats in Alaska. It supports high density duck nesting, producing 150,000 or more ducks annually, with breeding populations averaging 213 ducks per square mile. The refuge sustains one of the largest trumpeter swan breeding populations in North America. Minto Flats is also an important spring and fall waterfowl staging area, particularly for geese and swans. Sandhill cranes and loons nest in the area in relatively large numbers. Bald eagles are known to nest in the flats, and peregrine falcons have historically nested adjacent to the refuge. During winter, grouse and ptarmigan are present in large numbers, and overwintering passerines and small owls are common.
Mammals
Minto Flats has historically supported large numbers of moose and provides excellent habitat for black bear. Healthy populations of furbearers inhabit the flats, including beaver, muskrat, river otter, lynx, wolverine, red fox and mink. Marten, normally a dry land dweller, is uncommonly abundant on the flats.
Fish
The rivers and shallow lakes on the flats combine to make an excellent home for northern pike, burbot and grayling. Several species of whitefish (including sheefish) reside there also. Chinook, chum and coho salmon migrate through the area. Many of the lakes that are not connected to rivers support blackfish.