Game Management Unit
(GMU) Information

Unit 3
Note: Use of these maps indicates that you have read and understand the liability statement.

Select a Game Management Unit.
Game Management Unit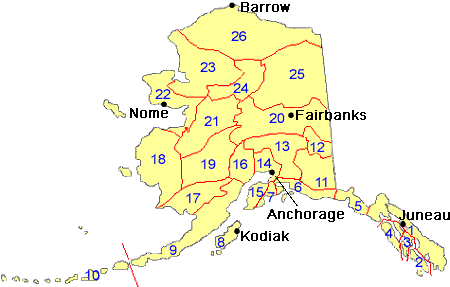 ---
Map of GMU 3
View high-resolution map of Unit 3 (PDF 246 kB)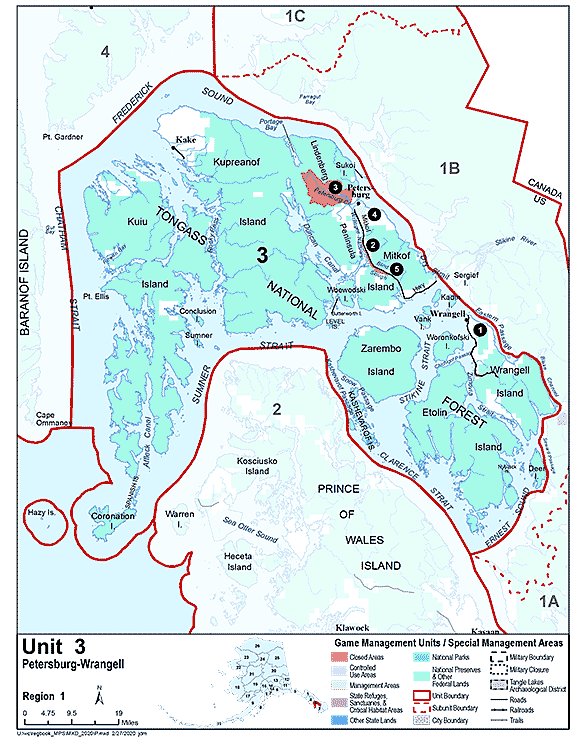 ---
Boundary Descriptions
GMU 3
Game Management Unit 3 consists of all islands west of Unit 1(B), north of Unit 2, south of the center line of Frederick Sound, and east of the center line of Chatham Strait, including Coronation, Kuiu, Kupreanof, Mitkof, Zarembo, Kashevarof, Woronkofski, Etolin, Wrangell, and Deer Islands, and all seaward waters and lands within three miles of these coastlines
---
Unit 3 Restrictions
Visit the Game Management Unit 3 Restrictions page.
---
Regulations
View the regulations book entry for GMU 3 (PDF 691 kB)
---
Access
For land access information see page 8 of the Hunting Regulations.
Contacts
Region of Alaska
Office Location
Address
Game
Management
Units
Phone Number
Region 1 -
Southeast
Douglas
P.O. Box 110024
Juneau AK
99811
1–5
(907) 465-4265
Region 2 -
Southcentral
Anchorage
333 Raspberry Road
Anchorage, AK
99518-1599
6–8, 14C, & 15
(907) 267-2257
Region 3 -
Interior
Fairbanks
1300 College Road
Fairbanks, AK
99701-1551
12, 19–21, 24, 25, 26B, & 26C
(907) 459-7206
Region 4 -
Central/Southwestern
Palmer
1800 Glenn Highway Suite 4
Palmer, AK
99645
9–11, 13, 14A, 14B, 16, & 17
(907) 746-6300
Region 5 -
Northwest
Nome
PO Box 1148
Nome, AK
99762
18, 22, 23, & 26A
(907) 443-2271