National Archery in the Schools Program (NASP)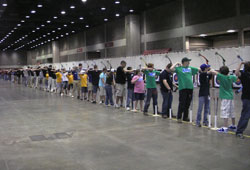 The National Archery in the Schools Program, (NASP) is a Nationwide Youth Archery program developed in Kentucky in 2002. Here in Alaska the program is a joint venture between NASP, the Department of Education and the Division of Wildlife Conservation. Several archery equipment manufacturers and local sportsman's organizations are also program partners. The program promotes self-confidence, team work, discipline, physical fitness and participation in the life-long sport of Archery. The program's focus is to provide International Style Target Archery in a physical education environment to all boys and girls grades 4 – 12. To date over 2,000,000 kids across America have participated in this great program.
For more information visit the NASP website or call Kirk Lingofelt @ (907) 267-2534.