Special Area Management Planning
Willow Mountain Management Plan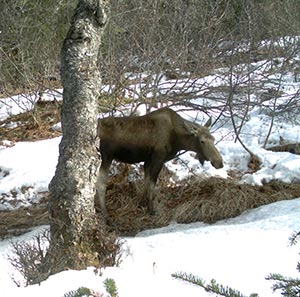 The Willow Mountain Critical Habitat Area Management Plan has been adopted and will become effective on September 8, 2023.
The plan adoption regulation can be found at 5 AAC 95.640 and the regulations for public use of the Willow Mountain CHA are at 5 AAC 95.642. Alaska Administrative Code - Title 5 - Department of Fish and Game regulations re: Habitat Section - Willow Mountain Critical Habitat Area (CHA) Management Plan - Alaska Online Public Notices
This plan provides guidance to ADF&G and DNR in permitting and managing land uses in the Willow Mountain CHA. This plan addresses habitat resources and management; it does not affect hunting and fishing regulations or harvest levels which fall under the authority of the Board of Fish and the Board of Game.
The Willow Mountain CHA was established by the Legislature in 1989 (AS 16.20.620) to protect the exceptional moose habitat found in the area. Large concentrations of moose gather in the dense willow thickets of Willow Mountain, particularly during the early winter post-rut period, to take advantage of the high quality forage found there.