Buyers/Exporters/Processors Permits
The Alaska Department of Fish and Game (ADF&G) jointly issues permits with DOR.
More information about Revenue Online can be found on the Revenue Online Help page. For assistance with obtaining a DOR letter Id to Enroll in Revenue Online please contact (907)269-0041 or (907)269-6627.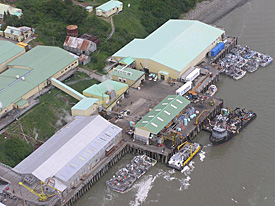 If you intend to buy, process or export a fishery resource you must obtain a Fishery Business License from the Department of Revenue, an Intent to Operate from ADF&G and depending on your activity you may also be required to obtain permits from Department of Environmental Conservation or federal fisheries permits. There are several Fishery Business License types. For a list of Fishery Business and ADF&G only license types and allowable activities please see the links below. If you are unsure which license type you need please contact ADF&G at the contact information listed below.
SPECIAL NOTE: Please note that paper copies are not available online for a Fishery Business License. To obtain a paper copy please call Department of Revenue at (907) 465-2320 or ADF&G at (907) 465-6131. For questions regarding permitting please contact Fish and Game's Seafood Industry Coordinator at dfg.seafood-coord@alaska.gov or (907) 465-6131.
Additional Information