Shore-based Processor or Floating Processor

Fisheries Business Licenses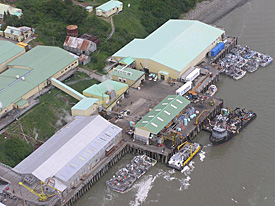 Shore-based and Floating processors are permitted to purchase fisheries resources from fishermen.
Shore-based Processors process fish in on-shore facilities; Floating Processors process fish on vessels. See "What is Processing"
Shore-based and Floating processors need permits from the Department of Environmental Conservation to process seafood; See DEC's Seafood page or call (907) 269-7501 for information.
Shore-based and Floating processors may export processed or unprocessed seafood out of the state of Alaska.
Shore-based and Floating processors may perform custom processing for others.
Shore-based processors may sell seafood products from their facility; Floating processors may sell seafood across the dock.
Federal permits are needed to buy halibut or fish harvested in federally managed fisheries. Contact NOAA Fisheries Permitting at (907) 586-7202 for information.
Shore-based and Floating Processors are required to complete the Commercial Operators Annual Report (COAR)
Please contact the Seafood Industry Technician at (907) 465-6131 or dfg.seafood-coord@alaska.gov if you have questions.
How to Apply for a Shore-based Processor or Floating Processor License
Online applications are accepted through the Alaska Department of Revenue. The Department of Fish and Game (ADF&G) and the Department of Revenue use the Revenue Online system

to process and issue licenses, code plates, and fish ticket books.
Contact the Department of Revenue's Fisheries Business License Help Desk at (907) 269-6620 if you have questions regarding Direct Marketer and Catcher Processor fisheries business licenses or fisheries taxes, or for assistance with the Revenue Online System.
---
Additional Information