Project WILD and Alaska Wildlife Curriculum Workshops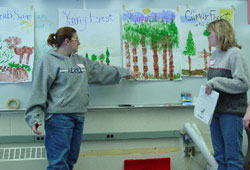 The Alaska Department of Fish and Game offers a wide variety of tailored workshops and learning opportunities on Alaska's wildlife conservation. The workshops are fun, hands-on, interactive and poignant to the needs of the group whether they are classroom teachers, environmental educators, para-professionals, parents, or community members. Opportunities are held across the state at various times and locations. Find a workshop near you on our training and workshop calendar or sign up for our list-serv to have information delivered to your e-mail. View our current workshop offerings around the State
Workshops/Professional Development for Educators and Teachers
Workshops are a fun and engaging way to increase science and wildlife education skills and background. Each participant receives a curriculum guide (Project WILD, Project Aquatic, Science and Civics, Growing Up WILD or Alaska Wildlife Curriculum) and a host of materials and additional resources provided by ADF&G. Workshops are taught by our staff or trained facilitators. Some workshops are available for graduate credit (for teacher recertification) through the University of Alaska system or Alaska Pacific University. There may be a materials fee as well as a fee for the graduate credit. Workshops can vary in length from 2–15 hours depending on the topic or if credit hours are required.
Read what teachers have to say about our workshops
In Depth Content Workshops
ADF&G offers courses designed to give teachers more depth in background information and knowledge. These workshops are targeted at specific grade levels and curriculum frameworks. While workshops include Project WILD, Alaska Wildlife Curriculum, the focus is on providing background content information for teacher readiness. These courses are available to classroom teachers, para-professionals and other educators.
Project WILD Workshops for Scout Leaders
North Carolina has created correlation guides for scout leaders who have completed a Project WILD workshop. These guides provide activity ideas for scout leaders to use in helping scouts achieve their recognitions. Scout leaders completing the Project WILD workshop receive:
A Correlation to Girl Scout Recognitions
A Correlation to Cub Scout and Boy Scout Requirements
Project WILD Activity Guide
Project WILD Aquatic Activity Guide
Workshops are focused on scouting situations with adaptations for varying group sizes and environments.
Volunteer Facilitator Training
ADF&G offers training to people interested in becoming facilitators of the Project WILD and Alaska Wildlife Curriculum. With this training, volunteers can deliver teacher workshops with the support of ADF&G for materials, curriculum and logistics.
Fees
Workshop fees vary according to the type and length of training being offered. The University system also charges a tuition fee for graduate credit.
Contact
For more information or to request a workshop visit the Educators Contacts page.