Southcentral Area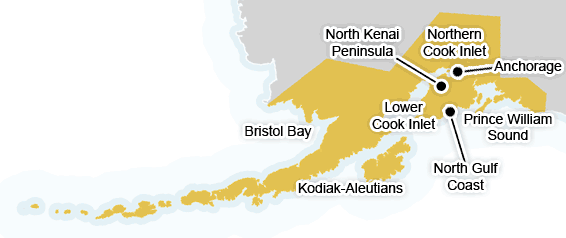 Annual Regulations Cover Photo Contest
The Southcentral region, or Region II, extends northwest from Prince William Sound to the southern slopes of the Alaska Range, sweeping southwest to encompass Bristol Bay, Kodiak Island and the Aleutian Islands. The region is almost incomprehensibly broad, gathering in its sprawl a startling diversity of weathers, waters and fish.
Within its southeastern boundaries, Region II is a coastal wilderness of bays, fiords, rivers and lakes all bordered by temperate rainforests and scenic mountains. This is Prince William Sound where, on a given day, saltwater anglers may tackle salmon, lingcod, rockfish and halibut. Area streams and lakes also offer salmon, as well as Dolly Varden; the occasional steelhead; and peppery, speckled coastal cutthroat trout. The climate here is maritime and moderate, with plenty of rain in the summer months and deep accumulations of snow in winter.
Far north of Prince William Sound, in the country immediately south of the Alaska Range, a land of lakes and streams sparkles in the shadow of Denali. This is the Susitna Valley, rich in salmon – especially Chinook and coho – rainbow trout, grayling, lake trout and more. The area's glaciers, muskegs and boreal forests are drained by the Susitna River, which flows south to empty into briny Cook Inlet. It is in this part of the region that wilderness meets metropolis.
Anchorage, Alaska's largest city, accounts for more than 40% of the state's population, while Region II in its entirety claims more than 65% of Alaska's human head-count. Ted Stevens Anchorage International Airport serves as the air hub for anglers planning trips to Alaska's far-flung corners. This part of Southcentral also contains most of the state's 14,336 miles of public roads, offering more easily reached, relatively inexpensive highway access to sport fishing than any other region.
South of Anchorage on the Kenai Peninsula, anglers are drawn to the Russian River, popular for its runs of sockeye salmon, and to the Kenai River where the 97-pound, 4-ounce world sport fishing record Chinook salmon was caught in 1985. Surrounding marine waters include Kachemak Bay out of Homer, and the North Gulf Coast outside of Seward, both famous among anglers seeking halibut, lingcod, rockfish and salmon.
South across these waters Kodiak Island, Alaska's "Emerald Isle," offers roadside fishing opportunities for sea-run Dolly Varden and Chinook, coho, sockeye, and pink salmon, and some remote rivers rich in steelhead and Chinook salmon. Famous for its brown bears, the largest land carnivores in the world, Kodiak is the second largest island in the United States with an area of 3,588 miles.
Marine waters here hold a bouillabaisse of shellfish – clams, crab, shrimp – and halibut, cod, and Alaska's five species of Pacific salmon, and ultimately merge with the tides of the Alaska Peninsula and Aleutian Islands chain. On the northern side of the Alaska Peninsula, anglers are drawn to the tundra hills of Bristol Bay which overlook the world's richest sockeye salmon fishery. While all five species of Alaska's Pacific salmon run here in great numbers, anglers come also for trophy rainbow trout that attain unbelievable weights, Arctic char, grayling, lake trout, and northern pike. With little more than short, sparse shrubs to break the frequent offshore winds, the country here holds a distinct austere beauty.
Summertime fishers visiting all reaches of Southcentral Alaska should come prepared for temperatures ranging from 40 degrees F to 75 degrees F. Although warm, sunny days are not uncommon in June and July, always come ready for rain, bugs and, in many cases, bears.
From the razor clam beds and halibut shoals of Lower Cook Inlet to the grayling streams of the upper Susitna Valley and beyond, Region II promises adventure for anglers of all kinds. For more Region II sport fishing information, call the Sport Fish Information Center in Anchorage at (907) 267-2218.