Yakutat Management Area

Fishing Research
Current Steelhead Research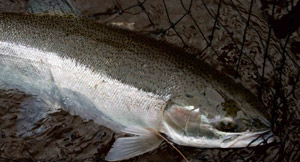 The decision to operate a weir on the Situk River to count steelhead (kelts) returning to the ocean was one that was balanced against having little data regarding population dynamics. Concerns are shared by both managers and anglers about possible negative effects that an improperly operated weir has on a steelhead population. Since steelhead are normally most active after dark, we have adapted our weir operation to allow for this behavior. Late night weir operation has proven to be very successful in passing steelhead downstream. The weir usually is installed during the first week of May and a new design allows boats to float across the weir panels without delay.
The possibility of using sonar to count steelhead was explored during two seasons with mixed results. It was found that the sonar would work, but just some of the time. There were many problems that could not be overcome, for example: ice, sea lions, and flood conditions.
Salmon Studies on the Alsek River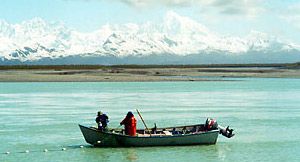 The Alaska Department of Fish and Game (ADF&G), in cooperation with the Canadian Department of Fisheries and Oceans (DFO) and the Champagne Aishihik First Nation (CAFN), will be continuing a king (chinook) and sockeye salmon research project on the Alsek River in 2003.