Wood Bison (Bison bison athabascae)

Management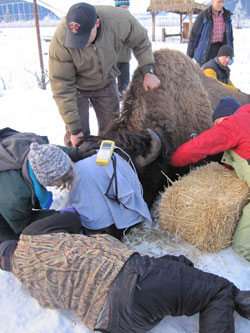 Alaska Department of Fish and Game biologists are monitoring the newly reintroduced wood bison. The management plan suggests that hunting may occur when there is a harvestable surplus of about 20 animals, with the overall population at about 250 animals at that time.
Detailed information regarding the 2007 Environmental Review and Decision regarding the Restoration of Wood Bison in Alaska can be found in these documents:
Management Plans
A wide range of interest groups collaborated to create the Wood Bison Management Plan. The seven goals of the plan are:
Establish a wood bison herd in the Lower Innoko/Yukon River area and manage it for long-term viability.
Ensure adequate staffing and funding for all phases of wood bison management.
Minimize conflicts between humans and wood bison.
Encourage cooperation among land managers to ensure reasonable, standardized land use and access to wood bison.
Manage harvest allocation to equitably benefit local residents, nonlocal residents and nonresident hunters.
Minimize wood bison impact on other wildlife species and the ecosystem on which they depend.
Ensure continuing communication among all user groups.
Other Key Points include:
Ensure hunting does not prevent herd growth and expansion into adjacent areas where suitable habitat exists.
Begin hunting only after the herd grows large enough to provide a harvestable surplus of at least 20 animals (estimated to take three to ten years from introduction in 2015).
Eighty percent of the permits will be drawing permits (with no more than 10 percent for nonresidents) and 20 percent will be registration permits issued in each of the four surrounding villages.
Alaskans who are not shareholders of the Native corporation lands will pay a land use fee of $300 (nonresidents will pay $500 to $1,500) to the nonprofit Randy Rogers Wood Bison Foundation Fund established to provide scholarships and training for village youth to learn more about wildlife.
You can read the entire plan at:
Management Plan for Lower Innoko/Yukon River Wood Bison in Westcentral Alaska (

PDF 1,333 kB

)