Alaska Fish & Wildlife News

March 2019
2019 Alaska Birding Festivals and Wildlife Events

By Riley Woodford
Alaska residents and visitors have spent more than a billion dollars a year in recent years viewing wildlife in Alaska. Birds, bears and whales are highlights, and more than a dozen birding and wildlife festivals in the state celebrate Alaska's charismatic fauna.
While the dates and overviews of festivals and events are current for 2019, in some cases, organizers are still coordinating speakers and program events; and in some cases registration is not yet open. Contact information and websites are provided for more information.
More on the economic value of wildlife in Alaska
18th Alaska Bird Conference
March 4 - March 7 · Westmark Fairbanks Hotel & Conference Center
The 18th Alaska Bird Conference will include four days of professional presentations, workshops, special sessions, an evening poster session, and keynote speaker Cole Sartore of The Photo Ark.
The conference will also feature activities and educational programming to engage local educators, birders, and the general public. The conference regularly attracts between 150 and 200 participants reporting on their latest findings and new initiatives. By design, the conference retains a familiar and friendly atmosphere, welcoming new students and ornithologists into the fold, and providing a much-anticipated gathering for those who work with and care for Alaska's birds.
This year's conference is hosted by the Alaska Songbird Institute with significant contributions from a local organizing committee. For questions please email: birdconferenceak@gmail.com or call the Alaska Songbird Institute at: (907) 888-2121.
https://www.alaskabirdconference.org/
Alaska Hummingbird Festival – Ketchikan
April 1 - 30, 2019
The rufous hummingbird is the most widely-distributed hummingbird in North America, and the most common hummingbird in Alaska (Anna's hummingbird is the only other, and a rare visitor at that). The rufuos migrates to Alaska every spring, traveling up the coastline from the Pacific Northwest, arriving in Alaska throughout April.
The Alaska Hummingbird Festival celebrates the return of the rufous hummingbirds to the Tongass National Forest. The Southeast Alaska Discovery Center serves as the hub for a series of events, including a juried art show, to promote awareness of the spring migratory birds of Southeast Alaska.
The Alaska Hummingbird Festival juried art show opening reception is April 5, 2019, starting at 5 p.m. at the Southeast Alaska Discovery Center. Artwork will be on display through June 1, 2019. The deadline to enter the juried art show (which includes six prize categories) is March 29, 2019. More information, and a birding checklist.
Events continue through April 30. Scheduled activities include Saturday morning guided bird walks, the Friday Night Insights lecture series, and Saturday afternoon activities for youth and their families. All programs and activities are free to the public.
For more information, contact Leslie Swada at 907-228-6290 or lswada@fs.fed.us
The Stikine River Birding Festival — Wrangell
April 25-28, 2019
Sponsoring Organizations: US Forest Service and City and Borough of Wrangell
Wrangell is the gateway community for the Stikine River Delta, where the arrival of thousands of bald eagles creates the largest springtime concentration in North America. The festival is the perfect opportunity to observe millions of shorebirds, which migrate to the delta each spring. The Stikine River and its tributaries are located within the Stikine-LeConte Wilderness Area of the Tongass National Forest.
Many birds concentrate along the Stikine River in April to feed on little oily fish known as hooligan. Hundreds of thousands of gulls arrive in the spring to take advantage of this valuable food source. Gull species present at this time include: Bonaparte's, Herring, Glaucous, Glaucous-winged, California, Mew, Ring-billed, Thayer's and Black-legged Kittiwake.
Events are scheduled for all ages and interests.
Guest presenters: The 2019 keynote speaker is Dr. Gary Ivey. Dr. Ivey works with the International Crane Foundation as a Research Associate and is an expert on sandhill cranes in the Pacific Flyway. He serves as past-president of The Trumpeter Swan Society and is leading efforts to restore breeding trumpeter swans to Oregon. He served for 20 years as a biologist at several western refuges, including 15 years at Malheur Refuge.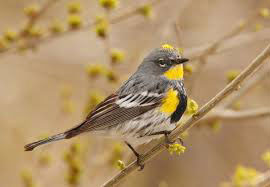 David N. Sattler is an award-winning wildlife and nature photographer, author of the award-winning photography book, The Miracle of Life at La Jolla Cove. Sattler's photographs celebrate the interconnectedness of all life and the beauty of the land on which we live. He grew up exploring and photographing the coastline, mountains, and desert in the Western United States. He is a professor at Western Washington University.
Kim McNett is the featured artist.
Gwen Baluss is president of the Juneau Audubon Society and is a Juneau Ranger District wildlife technician. She has been banding birds during the Stikine River Birding Festival since 2015.
For more information, contact 800-367-9745 or visit the Stikine River Birding Festival website.
Wrangell Convention and Visitor Bureau, 800-367-9745, in Alaska 907-874-2829
US Forest Service Wrangell Ranger District, 907-874-2323
Spring Migration Celebration – Fairbanks
Saturday, April 27, 2019, noon to four. Creamer's Field Migratory Waterfowl Refuge, Fairbanks
Creamer's Field Migratory Waterfowl Refuge
Copper River Delta Shorebird Festival — Cordova
May 2-5, 2019
Sponsoring Organization: Cordova Chamber of Commerce
In early May, the tidal flats of the Copper River Delta shimmer with the activity of hundreds of thousands of shorebirds. As many as five million shorebirds rest and feed on the delta during spring migration. The Copper River Delta Shorebird Festival provides the ideal opportunity for bird watchers to be part of this epic migration. Many activities, field trips, workshops and community events are offered throughout the festival, attracting visitors from around the globe.
Registration for 29th annual Copper River Delta Shorebird Festival is open. Register by April 25th, 2019 and receive the Early Bird Discount for Adult Registration. All children 12 and under are Free. Choose Student Registration for children aged 13-18.
Guest Presenters Include: Pete Dunne is the author of almost 20 books on birds, birding, natural history and conservation, including Tales of a Low Rent Birder, The Feather Quest, Hawks in Flight, Pete Dunne on Birding, and most recently, Gulls Simplified (with Kevin Karlson). The retired director of the Cape May Bird Observatory, he now serves as New Jersey Audubon's Ambassador of Birding. Pete Dunne is well known for his years counting hawks at Cape May, NJ and for founding the World Series of Birding. As an instructor at National Audubon's Hog Island Camp, leader for Victor Emmanuel Nature Tours, and workshop instructor in Cape May, he has brought thousands of birders to higher levels of acumen and awareness.
Workshop: Photographing Bird Life with Milo BurchamJoin Alaska photographer Milo Burcham for this two part workshop covering some photography basics to help with the challenge of photographing moving targets in varying sorts of light. Then, go out and enjoy the birds! The workshop continues the following day as we look at your best images and discuss some of the challenges inherent in getting them. This workshop is free, but space is limited. Sign up ahead of time below. Bring your own equipment.
Guest artist Zack McLaughlin makes paper and wood birds. Each bird takes from 30 - 120 hours to create. McLaughlin creates each bird as realistically as he can, from the first drawings to the last stroke of paint. See his work here: https://www.paperandwood.co.uk/ and stay tuned for special workshops.
For more information, visit https://www.coppershorebird.com/ Phone: 907-424-7260
Kachemak Bay Shorebird Festival — Homer
May 9 -12, 2019
Sponsoring Organizations: Homer Chamber of Commerce and U.S. Fish and Wildlife Service, The Friends of Alaska National Wildlife Refuges and Alaska Maritime National Wildlife Refuge.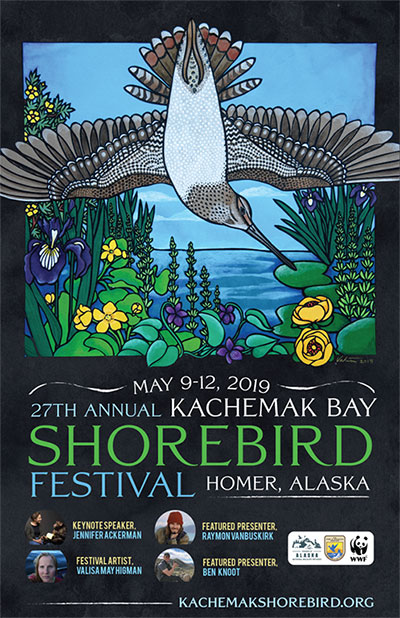 The 27th Annual Kachemak Bay Shorebird Festival. Homer's seaside setting is perfect for spotting over 130 migratory bird species, as well as numerous other resident species.
Guest presenters Include: The 2019 Festival will host Keynote Speaker Jennifer Ackerman, as well as featured author Mark Obmascik and featured presenters Raymond VanBuskirk and Ben Knoot. Distinguished guests will present a variety of workshops and lectures, including presentations on Ackerman's new book, The Genius of Birds and daily photography workshops as well. This year's featured artist is Valisa Higman.
Jennifer Ackerman has been writing about science and nature for three decades. Her most recent book, The Genius of Birds, explores the intelligence of birds. A national bestseller, the book has been published in 15 languages and has been a finalist for several awards. Her previous books include Notes from the Shore, a book about the shorebirds and other natural life of the mid-Atlantic coast; Chance in the House of Fate: A Natural History of Heredity; and Sex Sleep Eat Drink Dream: A Day in the Life of Your Body. Jennifer's articles and essays have appeared in National Geographic Magazine, The New York Times, Scientific American, and many other publications
Featured author Mark Obmascik is a Pulitzer Prize-winning journalist and bestselling author of The Big Year, which was made into a movie; and Halfway to Heaven, winner of the National Outdoor Book Award for Outdoor Literature. His third non-fiction book, The Storm on Our Shores, will be published in April 2019. He was winner of the National Press Club Award for environmental journalism, and lead writer for the Denver Post team that won the 2000 Pulitzer Prize for coverage of the Columbine High School massacre. He lives in Denver. He and his wife have three sons.
Raymond VanBuskirk is a passionate environmentalist whose love for nature was born in the pine forests of the Land of Enchantment. His is the former president of the Central New Mexico Audubon Society, owner and lead guide of BRANT Nature Tours (www.BrantTours.com), field ornithologist, ABA young birder camp instructor, and the former Birding Product Specialist for Leica Sport Optics.
Ben Knoot is a nature photographer and bird guide originally from California. He is a leader of educational and instructive photography tours and workshops for Tropical Birding Tours (http://www.tropicalbirding.com) and has been published by Nature's Best Photography, Audubon, Ranger Rick, NANPA, Wildlife Photo Magazine and the BBC.
Valisa Higman is a cut-paper artist from Kachemak Bay. Born and raised in Seldovia, her work is heavily influenced by her love of nature, people, food and community. She is the 2019 festival artist, and her work features a Wilson's Snipe in its signature dive, creating the winnowing sound heard in the spring. Her work will be on exhibit at First Friday, May 3rd, at K-Bay Café, Pioneer Ave., in Homer
For more information, visit the Kachemak Bay Shorebird Festival website.
Mallory, Shorebird Festival coordinator, 907-226-4631 Kachemakshorebird@gmail.com
Kenai Peninsula Birding Festival — Kenai
May 18, May 25, and June 1, 2019
The Kenai festival will follow a new format in 2019. Rather than following the previous four-day format, there will be three events on three successive weekends.
Sponsoring Organizations: USFWS, Kenai Watershed Forum, Kenai National Wildlife Refuge, Kenai Convention and Visitors Bureau, Keen Eye Birders, Soldotna Chamber of Commerce and Visitor Center, Kenaitze Indian Tribe.
Saturday, May 18, 2019
24-Hour Midnight Sun Big Sit: 6:00 AM – 6:00 AM. Participate in the only 24-hour Big Sit in the land of the midnight sun. All are welcome at the Kenai Wildlife Viewing Platform (located at the end of Public Boat Launch Road Kena). Come anytime and stay as long as you like. In past years participants have spotted 70+ bird species with moose, caribou, harbor seals and coyote joining us on the Kenai River estuary. No binoculars? No spotting scope? No problem. There will be lots of gear to share with new birders. This is truly a great time to learn from local experts.
Kasilof Flats Hot Spot – 1:00 – 3:00 PM: The Kasilof River north bank mud flats are one of the best Kenai Peninsula shorebird viewing spots. The road to the north side is off Kalifornsky Beach Road at road mile 5. The road is labeled Kasilof Beach Access Road. Biologist Laura Burke will help ID shorebirds. Make sure to arrive near 3:30 PM as the tide covers the flats quickly.
Kenai Flats Hot Spot – 4:00 – 5:30 PM: Join local experts at a special shorebird hotspot. A small pond next to Cannery Road on the south side of the Kenai River provides excellent shorebird views and photo opportunities. Take Cannery Road to where it ends at a sea food processing plant.
Saturday, May 25, 2019
Kenai Wildlife Refuge Walk – 8:00 – 11:00 AM: A walk in the woods near the Kenai Wildlife Refuge Headquarters near Soldotna, Alaska. This easy to moderate two mile walk is through a boreal forest and marsh habitats. Meet at the New Kenai Refuge Visitor Center near Soldotna. American Three-toed Woodpecker, Brown Creeper, and Golden-crowned Kinglet are possible. The first part of the walk will be on the Keen-Eye Trail followed by other trails as time permits. Led by George and Bev Kirsch.
A Walk in the Woods – 1:30 – 3:00 PM – Funny River Road: A major fire in 2014 created ideal habitat for woodpeckers and flycatchers. Local birder Cyndie Avery will lead an easy walk on a closed to vehicles dirt road to look for boreal species.
Saturday, June 1, 2019
Stormy Lake walk, 7:30 – 9:30 AM: Approximately 22 miles N of Kenai on North Kenai Rd. Park and meet at gate on road to the Boat Ramp. Easy 0.5 mile round trip walk on gravel road through brushy forest to Stormy Lake lakeshore. Blackpoll and Yellow Warbler, Northern Waterthrush, Brown Creepers and Swainson's Thrush possible. Recognition of bird songs and calls emphasized. Led by George and Bev Kirsch.
Helpful hints: Information is posted to the Kenai Peninsula Tourism and Marketing Council web page at http://kenaipeninsula.org/kenai-peninsula-birding-festival The walks try to start right on the scheduled time so it is advisable to arrive 5-10 minutes earlier than the posted time. It can be chilly on some of the mornings so dress warmly. The length of the walks are listed as maximum distances. If you cannot make it that far there are numerous options for leaving the group and getting back safely to your vehicle.
For more information, call Ken Tarbox at 907-262-7767
Yakutat Tern Festival
May 30 – Sunday, June 2, 2019
Sponsoring Organizations: Yakutat Chamber of Commerce and U.S. Forest Service, many other local partners.
The festival is a celebration of the natural and cultural resources of Yakutat, Alaska. Yakutat hosts one of the largest and southernmost known nesting colonies of Aleutian terns, as well as Arctic terns and up to 200 other bird species that nest in, or migrate through the area. The festival is family friendly and offers activities for birders as well as non-birders, including field trips, seminars, kid's activities, evening banquets, bird banding demonstration, and other programs. Other area activities include sight-seeing, hiking, fishing, surfing, canoeing and kayaking, wildlife viewing, and beach-combing.
Guest presenters include:
The 2019 keynote speaker is Alaska prolific science writer and author Ned Rozell. He's written more than 800 weekly newspaper columns about natural history and science, and has written 80 articles for Alaska Magazine. He has four Alaska-related books, Walking my Dog, Jane, is about a hike across Alaska with a dog that won't come along again. His latest work is Natural Alaska: Life on the Edge.
A variety of field trip leaders and presenters, including will include zoologist and guide Denise Yvonne Turley; Gwen Baluss will conduct participatory mist netting. Anchorage-based Bird TLC is bringing an owl and another raptor, possibly a golden eagle.
Call (907) 784-3359 for more information.
Potter Marsh Discovery Day — Anchorage
Saturday, June 1, 2019.
Free and open to the public
Where: Potter Marsh boardwalk, Anchorage Coastal Wildlife Refuge - 2880 East 154th Avenue, Anchorage, AK; located at Mile 117 along the Seward Highway approximately 10 miles south of downtown Anchorage (approximately 1/2 mile south of the Rabbit Creek Road exit and across from the Rabbit Creek Rifle Range). Additional events at V. Rae's studio near the marsh, and additional bird-related activities at the new Bird TLC facility.
Help celebrate Anchorage's most popular wildlife viewing area at this free annual event. This family-friendly nature festival brings you birding stations along the boardwalk, captive birds from Bird TLC, education animals from the Alaska Zoo, archery and spin casting practice, hands-on nature activities for kids, release of a rehabilitated wild bird, and more. A food vendor will be on site; parking available nearby; restrooms and entire facility is accessible to those in wheelchairs.For more information, visit the Potter Marsh Discovery Day page.
Alaska Bearfest — Wrangell
July 24-28, 2019
Events include a wide variety of presentations (symposium events); bear safety workshops, bear spray demonstrations, photography and videography workshops, kid's events and activities, movies, a plant walk, live music, a community market with local vendors, Native storytelling, and races ranging from a 5K to a full marathon. Celebrate the bears of Alaska with fun family and sports activities, workshops, a research symposium, a photo contest and more. Anan bear viewing area tours will be provided by local operators during the week.
For more information, visit the BearFest page.
Tanana Valley Sandhill Crane Festival — Fairbanks
August 23 -25, 2019
Sponsoring Organization: Friends of Creamer's Field and Arctic Audubon Society
Each August as thousands of sandhill cranes begin their southward passage from Alaska and Siberia the Tanana Valley rings with gathering calls. One of the best places to catch this spectacle is at Creamer's Field Migratory Waterfowl Refuge in the heart of Fairbanks, Alaska where daily sandhill crane tallies regularly top 1,000. The best time to enjoy fall staging is late August and early September.
The festival includes talks, bird watching, nature walks, workshops and many other related activities with ample opportunities for observing cranes and other fall migrants.
Lissa Hughes, Executive Director for Friends of Creamer's Field: 907.452-5162
For information visit the Friends of Creamer's Field website at: http://www.friendsofcreamersfield.org/crane_festival2018.shtml
Sitka WhaleFest
Oct.31 – Nov. 3, 2019
Sponsoring Organization: Sitka Whale Fest
At Harrigan Centennial Hall, 330 Harbor Dr. SitkaSitka WhaleFest is a unique science festival to celebrate marine life. Sitka residents and visiting attendees gather to hear an international lineup of renowned biologists and researchers share their current research and exciting experiences over the three day symposium. This innovative science outreach event gives future scientists and lifelong learners opportunities to meet and interact with the passionate and diverse group of speakers. Each afternoon, symposium participants and guest speakers will explore a daily theme connected to the overall theme of the symposium.
Surrounded by community and cultural activities, the weekend events include lectures, marine wildlife cruises in beautiful Sitka Sound, a marine-themed artisan market, music, local foods, art show, interactive student sessions, and a fun run/walk. View the Sitka WhaleFest website
Phone: 907-747-8878, ext. 2
Alaska Bald Eagle Festival — Haines
Date: Nov. 6 – 9, 2019 Phone: (907) 766-3094
Sponsoring Organization: American Bald Eagle FoundationMore than 3,000 eagles gather along a four-mile stretch of the Chilkat River north of Haines, Alaska each fall to feed on a late run of salmon. This wildlife spectacle is the largest gathering of eagles in the world. The peak of the gathering usually occurs in mid-November.
The festival features a full schedule of events catering to birdwatchers, photographers, and nature lovers, including educational programs, guest speakers, and workshops. Events include regular round-trip bus transportation between the American Bald Eagle Foundation Natural History Museum and the Chilkat Bald Eagle Preserve; outreach activities, arts and crafts, and guided bird walks.
---
Subscribe to be notified about new issues
Receive a monthly notice about new issues and articles.