Alaska Fish & Wildlife News

December 2018
ADF&G Public Use Cabins

By Nancy Sisinyak & Erik Anderson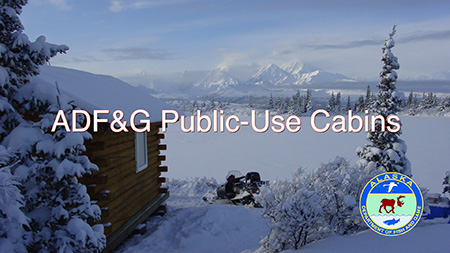 If you are looking for a fishing get-away this winter season, consider reserving one of the six Alaska Department of Fish and Game (ADF&G) public use cabins. Each of the cabins is situated on a lake offering great fishing opportunities, so be sure to haul in an ice auger and your fishing gear. All of the cabins are secluded and rustic. They are all equipped with a wood stove to keep you warm and toasty.
Nestled in the foothills of the Alaska Range, the Ken's Pond cabin has bunk space for four adults. The cabin is located about 5.5 miles up the Coal Mine Road off the Richardson Highway, 24 miles south of Delta, at mile 242.1. Coal Mine Road comes to within 1/3 mile of the little cabin, which is accessed via a trail that leads directly to the cabin. Coal Mine Road is not plowed in the winter months, so access to the cabin is by snowmachine, dogsled, and skiing. On a clear day, a beautiful view of the Alaska Range can be enjoyed from the cabin's deck. Right out the cabin door is Ken's Pond, a five-acre lake, that is stocked with rainbow trout and Arctic char. You must haul your own firewood, as woodcutting is not permitted on Bureau of Land Management (BLM) land.
Maybe you are interested in just such an adventure, but could use a larger cabin to accommodate your party. Coal Mine #5 ADF&G cabin may suit your needs a little better. Also located off Coal Mine Road, Coal Mine #5 cabin is 16' x 16' and can sleep six adults. Coal Mine #5 Lake (13 acres) is also stocked with rainbow trout and Arctic char. Ken's Pond is on BLM land, so again, you must haul in your own firewood.
Four more cabins are accessed from the Alaska Highway. All are on state or ADF&G land, where cutting dead and downed wood is permissible, but we still recommend that you haul in your own firewood because there is not much available around the cabins.
Lisa Lake cabin has a terrific view of the Macomb Plateau and has excellent rainbow trout fishing in the 50-acre Lisa Lake. There is a large double-ended pull-out at mile 1381 Alaska Highway where the one-mile-long overland trail to the cabin begins.
Donna Lake and Little Donna Lake each have a cabin on their shore. The trailhead is about 30 miles southeast of Delta Junction at milepost 1391.7 Alaska Highway. There is a large parking area and a double ended turnout with an ATV/snowmachine loading ramp. The 3.75-mile overland trail first brings you to 58-acre Donna Lake and continues for another mile to Little Donna Lake (30 acres). Both Donna and Little Donna lakes are stocked with rainbow trout.
The most remote ADF&G cabin is located on George Lake. Travel to the George Lake cabin requires crossing the Tanana River. Access to the cabin begins at mile 1385 Alaska Highway at the George Lake boat landing. Open leads and overflow on the Tanana River in the winter months make getting to George Lake problematic at times. Once there, however you will find excellent fishing for northern pike. Summer access to George Lake means travel down the Tanana River and up George Creek. During dry times, George Creek becomes too shallow to navigate. Even when passable George Creek requires some expert boatmanship. It is a very narrow, windy waterway. Of course, George Lake can also be accessed via air travel.
Watch the video to get an idea of what the cabins offer. Then check the availability calendar to make sure the cabin of your choice is available for the days/nights that you want it. You may reserve five consecutive nights up to 6 months in advance. Also, for more information, take a look at the website for each of the cabins. You may reserve any of these cabins by calling 907-459-7228 (Fairbanks ADF&G) or 907-895-4632 (Delta ADF&G).
Nancy Sisinyak & Erik Anderson both work for the Division of Sport Fish in Fairbanks.
---
Subscribe to be notified about new issues
Receive a monthly notice about new issues and articles.