Alaska Fish & Wildlife News

May 2016
Kodiak Bear Cubs Growing in New Homes

By Riley Woodford
Three Kodiak bear cubs that left Alaska in the fall of 2015 are thriving in the Midwest. A fortunate combination of events made it possible to successfully place the orphaned cubs with zoos in Wisconsin and Ohio.
ADF&G is generally unable to find homes for orphaned animals. Appropriate facilities that meet state and federal requirements rarely have room for new animals, and a brown bear cub is a 30 to 40 year commitment. Fortunately for two of the orphaned Kodiak bear cubs, last year the Wildwood Park and Zoo in Marshfield, Wisconsin, was able to make that commitment. The facility had been pre-approved and was putting the finishing touches on an upgraded and enlarged bear exhibit area. The third cub was placed in the Toledo Zoo and Aquarium in Ohio.
The Kodiak cubs arrived in Wisconsin in October 2015, just as native Wisconsin black bears were beginning to hibernate. The Kodiak cubs did not hibernate.
"People were asking all winter why they weren't hibernating," said zookeeper Steve Burns. "They had a pretty eventful summer and fall, and with all the changes they went through last year, I suspected they might not hibernate. They don't have a mother to teach them about hibernating, and with the new environment, new everything, they've had some excitement. They might not have had the reserves packed away."
The bears have access to heated indoor den spaces, a 4,600-square foot outdoor exhibit area, water pools, and a roughly one-acre wooded area known as the "bear woods." Burns said he thinks if the bears were to hibernate, they would most likely den outdoors in the bear woods. "There are log piles there, and they could dig a den under the logs," he said.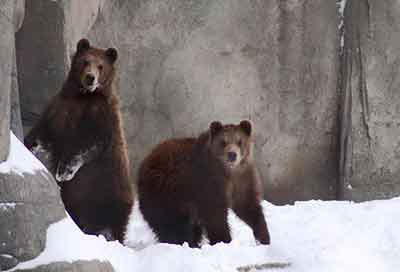 Burns said the Marshfield Park and Zoo's previous grizzly bear, Miss Griz, did not hibernate. "She lived here 36 years, and she never hibernated," he said. "She lived to be 40. She was born in captivity so we have an exact date of birth. She was long-lived."
Miss Griz died in the fall of 2010, and Burns said the zoo had been planning to upgrade and enlarge the bear exhibit for 15 years. With the area vacated, fundraising efforts began in earnest, and donations led to significant improvements. The exhibit area grew from 1,200 to 4,600-square feet, the "bear woods" area was created and connected to the exhibit with an enclosed 65-foot-long bridge, and additional water pools were added. Upgrades continued through the summer of 2015 and the cubs were cared for at the Alaska Zoo in Anchorage until their transfer to Wisconsin.
The bears' story began on May 5, 2015, when Fish and Game biologists in Kodiak were informed that a brown bear sow with three cubs had been shot. Several Kodiak guides in a hunting camp, including Mike Munsey and Harry Dodge, learned that a nearby group of resident hunters, not affiliated with them, had killed the bear not realizing she had cubs of the year. An assistant guide saw the den about 2,000-feet above sea level with the three cubs outside, and they contacted Fish and Game regarding a rescue.
Kodiak area biologist Nate Svoboda authorized the guides and their hunters to retrieve the cubs. Fish and Game often receives reports of "orphaned" animals that are not orphaned, but merely temporarily unattended by a parent. Svoboda knew that was not the case in this situation. He knew that placement was available and recognized the unusual opportunity to share Kodiak bears. He said his colleague, longtime wildlife biologist Larry Van Daele, supported the idea.
"Larry pointed out that only five bears have left Kodiak as cubs since 1980 – and these are three of them," Svoboda said.
Guide Harry Dodge led hunter Brandon Stokes and assistant guide Elias Holt on a steep and brushy climb to the den, where they each loaded a muddy, dehydrated and hungry cub into a pack for the descent. Two of the cubs weighed 10 pounds each, the third weighed 12 pounds, and Svoboda guessed they were born in late January or early February.
Adult animals are virtually impossible to place in zoos, but sometimes homes are available for young, orphaned animals. Zoos don't want adults; animals that have lived for years in the wild are difficult to manage and do not take well to captivity. Transporting them is difficult and stressful.
Approved facilities notify agencies like Alaska Fish and Game when they have the space and resources to take an animal, but Fish and Game is not looking to put animals in zoos. Brynn Parr is the state wildlife biologist who works with zoos and facilities approved to care for animals. She said at this time she has requests from several approved facilities for a small number of animals, including muskox, moose, Sitka black-tailed deer and one black bear.
"Our goal is not to take animals out of the wild," she said. "We're trying to make the best of a bad situation, and these success stories are what we hope for when we find orphans."
In February, 2016, The Wildwood zoo held a celebration for the cubs' first birthday. About 200 people attended. Admission to the zoo is free and it's open 360 days of the year. The Marshfield community named the bears Munsey and Boda to commemorate the individuals involved, Mike Munsey and Nate Svoboda.
The third cub has been placed in the Toledo Zoo in Ohio. Named Dodge, he shares the exhibit with two young sibling female grizzly bears from Montana. All three bears are about the same age, in their second year.
Burns said The Kodiak cubs weighed 210 and 220 pounds on their birthday. They've since gained about 40 pounds each. "They're growing boys," he said. "Munsey was 247 pounds at his last weight. Boda has consistently been about 10 to 12 pounds heavier. They are constantly active, wresting around, climbing trees, swimming. They have enough space that they could get away (from people) if they wanted, but they're out and active."
Burns said the bears were a big draw this winter, and their appeal is growing. "It's been packed down here. The numbers this time last year don't even compare to the visitor counts were seeing this year with the bears."
Locals are not the only visitors.
"The hunter that was involved in the rescue came to visit us this winter," Burns said. "Harry and Brigid both came out, with Brandon, the hunter that was with them when they rescued the bears. We've had three or four groups from Kodiak come through this winter. It's cool to see the connection the bears have created between Marshfield and Kodiak."
Burns has stayed in contact with biologist Nate Svoboda, developing the education message for the bears. "He and others on the Alaska end are contributing to the message that will appear at the exhibit, not just about bears, but life on Kodiak Island and how Alaskans live with bears," Burns said.
Wisconsin's wild bears are becoming active now that spring has arrived. "There was a story last week about a wild black bear that wandered through a hospital campus about 40 miles north of us," Burns said. "They're out and looking for food."
He's also getting calls about wildlife rescues. "It's baby animal season," he said. "I get calls every day – 'I found a nest of baby squirrels, can you take them?' – things like that. We don't do that."
Anyone with questions or concerns about an animal that appears to be orphaned can call their local Fish and Game office.
More on the Marshfield Zoo and Munsey and Boda:
Riley Woodford is the editor of Alaska Fish and Wildlife News and produces the "Sounds Wild!" radio program.
---
Subscribe to be notified about new issues
Receive a monthly notice about new issues and articles.