Alaska Fish & Wildlife News

August 2022
Live Video Broadcast from Round Island
Walrus Aplenty
By Staff
On Round Island in Bristol Bay, walrus from across the North Pacific gather as they have for thousands of years. Viewers around the world can watch the ivory-tusked, two-ton marine mammals go about their summer routines, thanks to a live camera installation from the philanthropic media organization explore.org and the Alaska Department of Fish and Game.
While females and calves spend summers at the Arctic ice pack's edge to the north, male walruses congregate, or haul out, on Round Island by the thousands.
Explore.org initially worked with department staff in 2015 to establish four cameras along the island's most popular haulouts. One camera is operating this year.
"It's right down there where the walrus are," said Joe Meehan, coordinator of the ADF&G Lands and Refuges program. "It's probably the best of the four cameras, on what we call the main beach, where the largest numbers of walrus haul out."
The broadcast includes audio and you can hear walrus vocalizing and grunting, surf rolling and sea birds calling. The camera feed will broadcast live as long as ADF&G staff are on the island, likely through the middle of August. ADF&G staffs a camp at Round Island through the summer months to protect and monitor walruses and other terrestrial and marine wildlife, and to welcome visitors.
Visiting Round Island in person requires access permits, available for five-day overnight camping or day use. Prospective Round Island visitors can purchase camping or day-use permits in advance online. Access permits can be purchased through the department's web store at: https://www.adfg.alaska.gov/Store/.
Visitors see more than walrus. Red fox are abundant on Round Island and more than 100 bird species have been documented. In summer, nearly 250,000 seabirds nest and raise their young at Round Island seabird colonies. This includes approximately 150,000 common murres, 70,000 black-legged kittiwakes, 1,250 pelagic cormorants, parakeet auklets, horned and tufted puffins, pigeon guillemots, and glaucous-winged gulls. Round Island is also home to numerous other seabirds, songbirds, raptors, ducks, and shorebird species.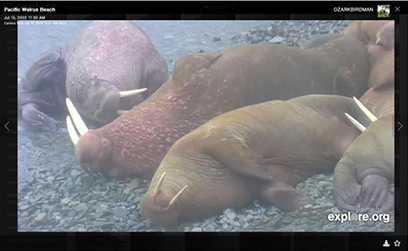 Learn more about visiting Round Island
More on Round Island and the Walrus Islands State Game Sanctuary
First-person article on visiting Round Island - Round Island: Wildlife Viewing at its Best: https://adfg.alaska.gov/index.cfm?adfg=wildlifenews.view_article&articles_id=854
---
Subscribe to be notified about new issues
Receive a monthly notice about new issues and articles.