Alaska Fish & Wildlife News

February 2019
Trappers, We Need You!
The Alaska Trapper Report
By Riley Woodford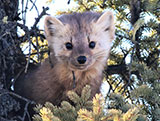 The Alaska Trapper Report provides a detailed look at trapping in Alaska, with information provided by trappers. Trappers – and anyone interested in trapping and furbearers in Alaska – can gain tremendous insight into trapping practices and activities in the five regions of the state. The 70-page report is published annually, and offers details such as:
Statewide variation in the total length and number of sets on traplines.
Statewide sealing data for seven of the most ... Trapper Report Article Continued
---
Sharing Pictures with Fish and Game

By Riley Woodford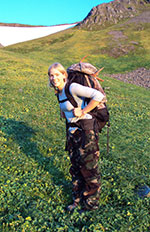 Alaskan Liz Luber harvested a caribou in 2018 and shared the photo with Fish and Game. While the image features the caribou, it highlights the fact that this was a family hunt.
Every year, hunters and anglers contribute photos to Fish and Game. The Division of Wildlife Conservation prints photos in the hunting regulations, and others are used on our website and in educational brochures and outreach materials. Pictures that convey the hunting experience are particularly welcome: hiking, ... Sharing Pictures Article Continued
---
Gustavus wolves set sights on new quarry
Sea otters prove to be a large portion of diet
By Abby McAllister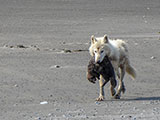 While most wolves prefer ungulates like moose, deer and mountain goats, the Gustavus pack, in northern Southeast, has displayed a preference for one unlikely marine mammal — the sea otter.
Gretchen Roffler is a wolf biologist for the Alaska Department of Fish and Game and said her work analyzing scat samples from wolves all over Southeast Alaska is what alerted her to this trend.
"We assumed moose and deer would be the primary prey species, and it's known that in ... Otter Eating Wolves Article Continued
---
Deciphering the 'kill site'
Investigating wolf kill sites in Southeast
By Abby McAllister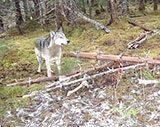 There's no police tape, emergency vehicles, sirens or uniformed officers at the crime scenes research biologist Gretchen Roffler visits. Most often, she's flanked by snowcapped mountains and verdant valleys with rivers meandering their way to the coast. And even though her setting might be unconventional by most standards, her methodologies are much the same: take photos of the scene, attempt to disturb very little, make observations and collect evidence.
Roffler works in the ... Sluething Kill Sites Article Continued
---