Marine Mammal Program Overviews

Steller Sea Lion Program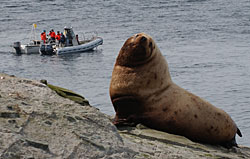 The ADF&G Steller Sea Lion Program conducts field research on sea lions in Alaska. Most of our field work is focused on southeastern Alaska and Prince William Sound, and we also work in the western Gulf of Alaska, Aleutian Islands and Bering Sea. We work to help understand the population decline of Steller sea lions in the western Distinct Population Segment (wDPS) of Alaska, describe its contrast with the steadily increasing eastern DPS, and provide information supporting sea lion recovery.
The strengths of ADF&G sea lion research are our comprehensive approach to understanding sea lion ecology and extensive collaborations with outside cooperators. Our program examines sea lion population dynamics, physiology and disease, animal movements and diving behavior, genetics, nutrition and body condition. We approach each of these topics through a variety of methods to provide a complete picture of sea lion biology. We have extensive in-house laboratory analysis capability, our staff has long experience in sea lion and marine mammal research, and we maintain a complete set of specialized and often custom-built equipment and skiffs required to support our scientific program. Our long-term collaborations with the NOAA National Marine Mammal Laboratory, University of Alaska, Alaska SeaLife Center, University of British Columbia and numerous other cooperating institutions ensure we make the maximum use of the field data and samples we collect and effectively coordinate resources and knowledge to better support recovery of the Steller sea lion population in Alaska.
ADF&G sea lion research is guided by the Steller Sea Lion Recovery Plan (NOAA Fisheries 2008), a document which outlines the actions necessary for recovery of the species and the criteria to be met before down- and de-listing of the threatened and endangered populations.
Our work is authorized through permits issued by the ADF&G Institutional Animal Care and Use Committee, the NOAA Protected Resources Division, the National Park Service and the US Fish and Wildlife Service. Our work is primarily supported by a grant from NOAA Fisheries, with additional funding from various sources which have included the State Wildlife Grants program, North Pacific Research Board, Coastal Impact Assistance Program and legislative appropriations.
About Steller Sea Lions
For background on Steller sea lion biology, please read our Steller sea lion species profile. The NOAA Fisheries Alaska Region provides extensive information about Steller sea lion management, regulation and research on the stellersealions.noaa.gov website.
Staff
Tom Gage — Boat officer
Sue Goodglick — Wildlife Biologist
Kelly Hastings — Wildlife Biologist
Lauri Jemison — Wildlife Biologist
Justin Jenniges — Wildlife Biologist
Steve Lewis — Fish and Wildlife Technician (seasonal)
Michael Rehberg — Wildlife Biologist — Program Leader
Contact Us
By email:
dfg.dwc.sealions@alaska.gov

By mail:
Alaska Department of Fish and Game
Steller Sea Lion Program
525 West 67th Avenue
Anchorage, Alaska 99518 USA