Hunter Access

Completed Projects
Moon Lake State Recreation Site — Tok Management Area
Coordinates: 63.37567, -143.54767
Game Management Unit: 12
Land Manager: Department of Natural Resources (DNR); Division of Parks and Outdoor Recreation
Description
The Moon Lake State Recreation Site (SRS) is situated at the base of the Alaska Mountain Range, just 15 miles northwest of Tok between the Alaska Highway and the Tanana River. The facility provides immediate access to the Tok Management Area, which is a very productive spot for trophy sheep hunting. Other nearby hunting opportunities include moose, black and brown bear, sheep, and waterfowl. Moon Lake provides bush pilots and air taxi operators a base of operations for ferrying hunters to and from numerous remote lakes. The facility's strategic location allows it to serve as a central hub during hunting season.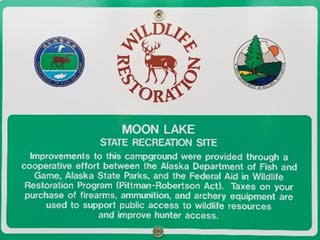 Purpose
Heavy use and unmanaged runoff over the years have worn down the road and the SRS itself, leaving it potholed and run down. This project will improve existing campsites, repair the driving surface, install culverts to manage runoff, and provide basic camp furnishings to better accommodate hunters staging in the area.
Outcome
This project was completed and open to the public in July 2020. The result is a level and well-drained campground with plenty of space for large hunting parties, including basic furnishings such as picnic tables. To address sanitary needs, a new ADA compliant restroom is also provided at this facility.
Project Partner
Moon Lake SRS Location
The appearance of a Google Maps link is not an Alaska Department of Fish and Game recommendation for or implied endorsement of Google Maps. Please also be aware that the provided latitude and longitude coordinates are approximations and are not intended for navigational purposes.
Useful Links