Bird Viewing

Alaska's Birders' Birds — Gray-headed Chickadee
Arctic Warbler
Eastern Yellow Wagtail
Long-tailed Jaeger
McKay's Bunting
Red Phalarope
Steller's Eider
White Wagtail
Yellow-billed Loon
---
Gray-headed Chickadee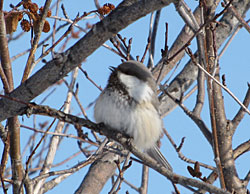 The gray-headed chickadee is one of the rarest regularly breeding birds in Alaska. This boreal forest songbird, formerly known as the Siberian Tit, has never received formal study in Alaska, outside of some specimens collected by the noted wildlife biologist Olaus Murie and others early last century. It is a resident to the state and does not appear to undergo long distance migrations. It closely resembles the black-capped and boreal chickadees (it is often confused with the juvenile boreal chickadee) and can be distinguished by the field marks described in the flyer below.
Though rarely observed and little is known about them, the gray-headed chickadee is believed to occur primarily north of the tree line along the edges of rivers and streams where spruce, willow, and/or poplar trees grow large enough to allow for a nest cavity (they are cavity nesters). Records also indicate that they have been found, and may still occur, in Interior Alaska, usually in the winter. It is unknown if the recorded sightings are of birds moving south from northern Alaska or if they are year-round, though largely undetected, residents of the Interior.
Because so little is known about this species and because of its nearly endemic status in Alaska and likely small breeding population, the Threatened, Endangered, and Diversity Program of ADF&G is interested in gathering baseline information by locating areas where sufficient numbers of the species occur to allow for more in-depth biological studies. The project's current aim is simply to document where and when the gray-headed chickadee occurs in the state. Any assistance in observing or detecting this species anywhere in Alaska would be greatly appreciated! See the flyer below for information on how you can help out.
Possible Viewing Areas
We're not sure! That's why ADF&G is asking the public to help document sightings of this elusive and largely unknown bird.
Links
Facebook
Twitter
Google+
Reddit