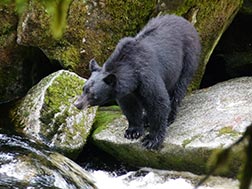 Anan Creek Wildlife Viewing Site
At a Glance
Anan Creek supports one of the largest pink salmon runs in Southeast. The run draws in black and brown bears, bald eagles and other fish-loving animals during the months of July and August. The area is accessible only by floatplane or boat, usually from Wrangell or Ketchikan. A half mile hike from the beach brings you to the viewing area where black bears are the main attraction. Managed by the US Forest Service, the site features a 1/2 mile long boardwalk and an observation platform and photo blind that overlook cascading falls where salmon jump up river and bears catch their meal.
Facilities
Visitors can watch bears feeding along Anan Creek from the Anan Wildlife Observatory. The site features a covered viewing shelter, decks, a photo blind, and an outhouse. Arriving by boat or floatplane, visitors follow a moderately easy half-mile hike on a boardwalk trail from the mouth of Anan Lagoon to the observatory. The hike does require climbing over rocks after disembarking at the beach.
Several air and boat charter service companies offer trips to Anan from local communities, usually Wrangell (30 miles northwest) or Ketchikan. Forest Service personnel meet visitors at the trailhead from late June to September to check passes (if required) and give a briefing on trail conditions and safety. During the peak viewing season in July and August, USFS interpreters are also at the observatory between 8 am and 6 pm.
The season lasts from mid-June through mid-September. Passes are required during peak season. A public recreation cabin is available for rent for those interested in spending more time. Visit www.recreation.gov to learn more. Reservations are required.
Getting There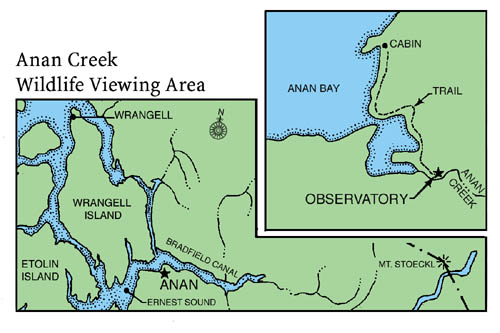 Anan Creek is accessible only by floatplane or boat, usually from charter companies in Wrangell or Ketchikan.It's a quick plane ride or a 45 minute boat ride from Wrangell. It's about 45 minutes by floatplane from Ketchikan. Commercial guides are also available at nearby communities.
Contact Information
USDA Forest Service, Tongass National Forest; Wrangell Ranger District (907) 874-2323
Gallery