Anchorage Coastal —
Wildlife Refuge
Potter Marsh Discovery Day 2023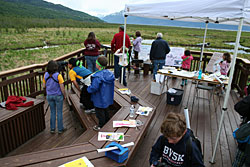 NAME OF EVENT: Potter Marsh Discovery Day
WHEN: 11am to 4 pm Saturday, June 3, 2023
WHERE: Potter Marsh boardwalk, Anchorage Coastal Wildlife Refuge, 2880 East 154th Ave., located at Mile 117 along the Seward Highway approximately 1/2 mile south of the Rabbit Creek Road exit and across from the Rabbit Creek Shooting Park.
DETAILS: Discover Potter Marsh and some of Alaska's wildlife at Anchorage's most popular wildlife viewing area. This family-friendly event includes nature-related games and prizes, invertebrate sampling, birding stations along the boardwalk, educational animals from the Alaska Zoo, kid-friendly archery range, fishing practice area, release of a rehabilitated wild bird (if available), captive educational birds at nearby Bird TLC facility, artist booths at nearby V Rae Art Studio, and more. Event sponsored by the Alaska Department of Fish and Game and other partners.
A food vendor will be on site; parking available nearby; restrooms and entire facility are accessible to those in wheelchairs.
COST: Free, everyone welcome
CONTACT: (907) 267-2168; marian.snively@alaska.gov