Alaska Department of Fish and Game
---
Employee Spotlights
The Alaska Department of Fish and Game includes more than 1,700 employees in 47 offices throughout the state. Our staff works hard to sustain Alaska's resources. Like most Alaskans, we are passionate about our fish and wildlife. We are also proud to provide a public service. Below you can find examples of our outstanding staff from each of our divisions.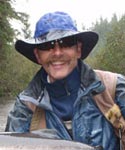 Dan Bosch
Sport Fish - Fishery Biologist
I think every biologist I know got into this line of work because they grew up outside playing in the streams, lakes, and woods...
Employee Spotlights by Division
Facebook
Twitter
Google+
Reddit

Section Navigation
About Us
Alaska Department of Fish and Game
P.O. Box 115526
1255 W. 8th Street
Juneau, AK 99811-5526
Office Locations