Division of Subsistence

Director
Hazel Nelson

Director of the Division of Subsistence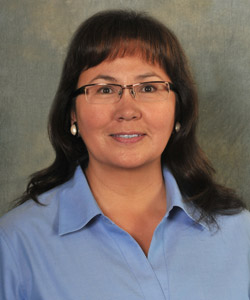 Hazel Nelson was born and raised in Egegik and has been the President of Becharof Corporation, the ANCSA corporation since 1987.
She offers twenty-four years of hands on experience with State and Federal resource regulatory processes and management of Bering Sea and Gulf of Alaska fisheries and Lower Bristol Bay wildlife issues. Over the years, Hazel has represented Western Alaska on groundfish and crab fisheries including the development of the Community Quota Entity program for Gulf of Alaska communities, salmon bycatch limitation issues, and the halibut subsistence program. She has served in a variety of key positions in regulatory, industry, and economic development bodies including the North Pacific Fisheries Management Council, Lake and Peninsula Borough, Bristol Bay Economic Development Corporation, US-Russian Inter-Governmental Consultative Committee, and the South West Alaska Municipal Conference.
Hazel was raised in a subsistence lifestyle household. She brings a wealth of knowledge and real life experience to the Department and is a firm believer in providing for sustainable subsistence opportunities to meet the needs of all Alaskans.