Alaska Fish & Wildlife News

June 2015
Family Fishing with the Salmon Challenge

By Dennis Musgraves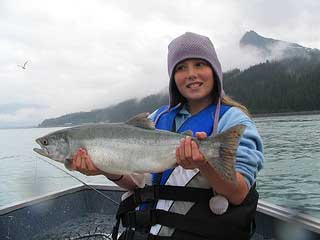 Taking my family on weekend retreats for salmon fishing during Alaska's summer time was a reoccurring outdoor event when my daughters were growing up. Countless were the trips, and so were the number of salmon we caught on those outings. Salmon fishing allowed us to travel about the 49th State, detach from life's everyday distractions, and spend quality time together.
The social impact those yesteryear fishing trips had on my family reached far beyond a means in which we brought a tasty meal to our dinner table. Those fishing adventures spent chasing the five varieties of pacific salmon created fun and bonding experiences, and produced the unmeasurable reward of enhancing our connection as a family unit.
I am proud to say my daughters, Meghan & Kelly each caught all five different species of pacific salmon before they graduated high school. I always thought it was a fabulous individual accomplishment, and not just because they're girls. I believe they think so too, as I have often heard them telling their friends, sometimes in dramatic fashion, about landing each one of the salmon species with a rod & reel.
Documenting our family salmon fishing success was something I also enjoyed, and made sure to have a camera always nearby when we were out fishing. Capturing their achievements, and taking plenty of photos every time they caught a different type of salmon. Images allowed us to share our family adventures in Alaska with friends & relatives in the lower 48. Having all the photos also enabled our family to receive special recognition from the State of Alaska.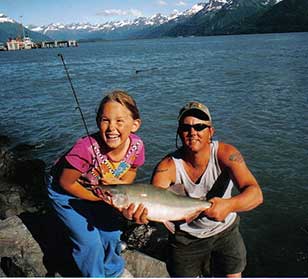 Alaska's Department of Fish & Game introduced a program last year which recognizes and celebrates families sport fishing for salmon in the Last Frontier. The Five Salmon Family Challenge Program was created to celebrate and recognize family's sport fishing for Pacific salmon commonly found in Alaska. Family's that legally catch each one of the five species (Chinook, Sockeye, Chum, Pink, and Coho), and document the catches with photos, can submit and entry for a handsome certificate.
The program is inclusive and allows photos from previous fishing years. Which I was pleased with since my oldest daughter, Meghan, is now married to a soldier and probably will not be home for summer fishing for quite some time. Photo entries do not need to come from the same calendar year, and ADF&G has the program open for both resident and non-resident anglers to participate.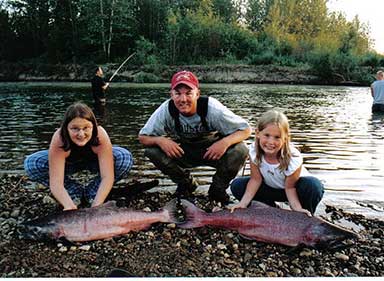 Gathering photos to submit was a walk down memory lane for me. Viewing the pictures brought me back to all the time spent together with my wife and daughters, visiting so many beautiful rivers and ports in Alaska. Not to mention some incredible fish we caught. It was not easy to choose only a few to include with the application, but I eventually selected some of what I believed made for best representation for each species of salmon and completed the application.
I sent in my submission digitally (application and required photos) and about three weeks later received a beautiful color certificate, with all five species of Pacific salmon represented and our family name in a bold style font right on the front. Additionally included with the certificate was an ADF&G official's letter of congratulations. The certificate proudly hangs in my home now and has become a great source for reminiscing about family fishing stories when my fishing cohorts, neighbors and friends visit.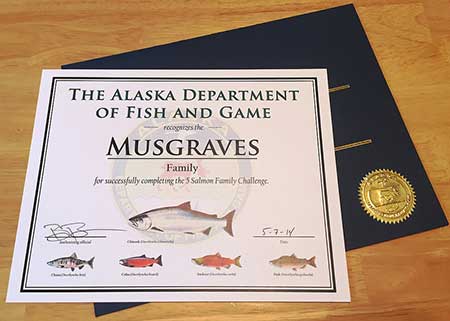 If you haven't had the chance to go fishing with your family during the summer for salmon, or maybe you haven't caught all five species of Pacific salmon yet. The challenge program from ADF&G may be something to inspire you to spend more time on the water this year fishing for salmon as a family. I strongly suggest you bring your camera whenever you venture out for salmon fishing in the wilds of Alaska.
If you're interested in finding out more about the program and the unique way to celebrate and be recognized with family fishing for salmon in Alaska, check out the official website. Complete rules and information about the Five Salmon Family Challenge Program can be found online at the ADF&G website.
Guest author Dennis Musgraves spends over 100 days annually sport fishing all over Alaska. Chronicles of his year round Alaskan fishing adventures can be found on a recreational website, which was founded to educate, inspire, and celebrate sport fishing in the Great Land. You can find him at www.alaskansalmonslayers.com
---
Subscribe to be notified about new issues
Receive a monthly notice about new issues and articles.