Alaska Fish & Wildlife News

December 2012
Videos from Alaska Fish and Game
Multimedia Page Offers Videos & Audio Programs
By Riley Woodford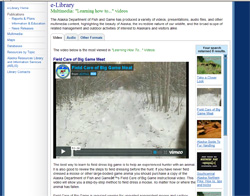 A lesson in catching a northern pike or field dressing a moose is just a few mouse clicks away.
More than 60 videos on hunting, fishing, trapping, wildlife watching and other topics are available for viewing online through the Alaska Department of Fish and Game website. Judging a legal moose or a trophy bear, tanning a beaver pelt, filleting a pike or burbot and keeping kids safe around Alaska's urban moose are all featured. Other videos include an overview of the Department, the Becoming an Outdoors-Woman program, and a look at the issue of sea lion entanglement in marine debris.
In addition to professionally produced programs, short videos clips are also available. Wild bears and foxes, a coyote trying to grab a porcupine, SONAR clips of fish and wildlife underwater, and puffins on Round Island are featured.
There are five categories or albums of videos from which to select.
Learning how to... videos: features in-depth topics, such as how to catch and filet burbot, how to process a pelt, and how to distinguish a male brown bear from a female are included.
About ADF&G: features information about some of ADF&G's programs and events.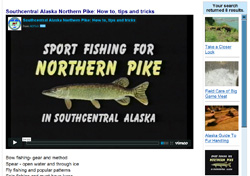 Videos on fish and/or fishing: features programs produced by ADF&G. Research on Innoko River Sheefish and Unalakleet River king salmon, tagging salmon, and stocking rainbows are included. Very short video clips that highlight fish may not be included here but are in the short clips album.
Videos on wildlife, wildlife viewing, hunting or trapping: features programs produced by ADF&G. Managing Predators and Prey in Alaska, Staying Safe Around Urban Moose, Sharing Alaska's Trails: Traps and Trapping, and Alaska: Watch Our Wildlife are some examples. Very short video clips that highlight wildlife are not included here but are in the short clips album.
Short clips of fish and wildlife: features snippets of video ranging from 10 seconds to a few minutes on a variety of topics. A brown bear playing with her cub, a red fox and a golden crowned sparrow on Round Island, and a mob of walrus in the water are a few examples.
Fish and Game is testing a few different formats to meet the needs of users with high and low bandwidth. Some videos are available in download-friendly lower-resolution versions, as well as a high quality version.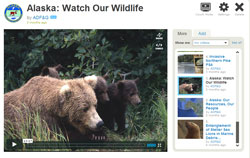 The videos are embedded on a multimedia page. The page offers three tabs: video, audio and other formats. A drop down menu invites the viewer to select an album category and a "Search Videos" button brings up the album. A viewer appears and defaults to the album's most-viewed video. A right hand navigation bar offers a look at the other videos in the album.
Audio
The audio tab offers the opportunity to listen to episodes of the "Sounds Wild" nature radio program, as well as podcasts on Potter Marsh and an audio guide to the Inside Passage. When in session, live streaming audio of the Board of Game and Board of Fish meetings is available.
Other Formats
The tab provides links to other parts of the ADF&G website that feature presentations in a variety of formats - PDF files (posters, handouts, brochures and more), Powerpoint presentations, animated graphics of tagged Bowhead whale movements in the Arctic, and even software applications are available.
---
Subscribe to be notified about new issues
Receive a monthly notice about new issues and articles.