Alaska Fish & Wildlife News

September 2012
Featured Video
Is This Moose Legal?
By Riley Woodford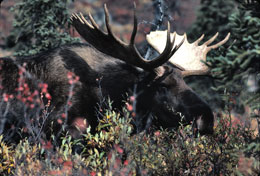 This is a 40-minute video that helps hunters judge the size and age of bull moose in Alaska. This is required viewing for hunters in some areas, and highly advised for anyone hunting in an area with spike-fork-50 restrictions.
Judging the size (and legality) of a big bull seems difficult, but the video offers insights that simplify the process. Some very handy tips are provided as well as details that clarify the regulations.
Click to see Is this Moose Legal
For a more download friendly version that's a smaller file size.
Regarding the embedded video player: Mousing over the video screen enables the controls. The small icon with four arrows next to the volume control will allow you to go full screen, but this does slow the download. If you live in an area where internet speed is slow, watch on the small screen and be sure to give the video time to load before you begin viewing.
---
Subscribe to be notified about new issues
Receive a monthly notice about new issues and articles.