Alaska Fish & Wildlife News

July 2012
Featured video: Entanglement of Steller Sea Lions
Identifying Causes and Finding Solutions.
By Riley Woodford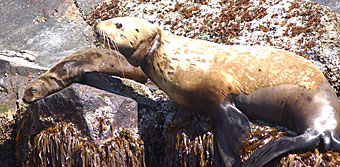 Thousands of marine animals die each year when they become entangled in marine debris. Along the coast of Alaska and Canada dozens of Stellar Sea Lions become entangled in plastic debris floating in the ocean. They also face injury and death when they swallow fishing gear including hooks and heavy line, when actively pursuing a hooked fish.
The Alaska Department of Fish and Game and Sea Gypsy Research teamed up with Moore and Moore Films and Marni Productions to produce an 11-minute educational video that introduces the problem of Steller sea lion entanglement in marine debris.
During an eight-year study in Southeast Alaska and British Columbia, 388 stellar sea lions were documented as either being entangled in marine debris or having ingested fishing gear. About half of the animals had some sort of debris around their necks. While the other half had interacted with sport or commercial fisheries and had swallowed fishing gear.
The video describes how sea lions become entangled, the most common sources of entangling debris, and what you can do to help reduce the number of entanglements. Be aware that the video shows some footage of entangled animals, which can be distressing for some people. Click on the title below to watch.
Entanglement of Steller Sea Lions:Identifying Causes and Finding Solutions
The icon in the bottom right corner with four small arrows will enlarge the video to full screen
---
Subscribe to be notified about new issues
Receive a monthly notice about new issues and articles.