Alaska Fish & Wildlife News

June 2012
Featured Video:
Moose!!! Staying Safe Around Urban Moose.
By Riley Woodford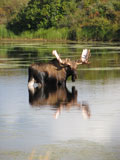 It's moose calving season and Alaskans are seeing cow moose and their calves in urban and wild settings. That can be an exciting wildlife viewing experience, but it can also potentially be dangerous. In late May several people in Southcentral Alaska, including children, were injured by defensive mother moose with young calves. This 12-minute video targeted at a grade-school age audience offers general advice for living with urban moose and staying safe around moose.
Produced by the Alaska Department of Fish and Game and students at Mirror Lake Middle School. Student narrators host the program, and a guest biologist offers information.
The video can be viewed here in the Living With Moose section of the ADF&G website.
An article on the original production and the collaboration with the school can be found at here.
---
Subscribe to be notified about new issues
Receive a monthly notice about new issues and articles.