Alaska Fish & Wildlife News

October 2007
Recipe:
Salmon and Corn Soup
By Riley Woodford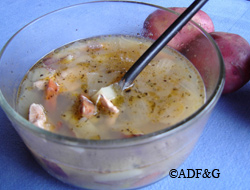 "Nothing goes with salmon like corn," says my friend Flash.

This recipe evolved over time, and Flash inspired the addition of corn. For Alaskans that eat a lot of fish, this is a great alternative to grilling. The best part is that the leftovers improve with age. You make it for dinner on Sunday, and eat it for lunch during the week. It's noticeably richer after sitting for a few days in the fridge, and it microwaves well.
It's great with fresh salmon, of course, but good with frozen fish. It's a little easier to trim the fish when it's partially frozen. Substituting half or a third of the salmon with smoked salmon is a good variation.
Trim salmon into bite-size pieces, no skin or bones. About three cups
3 cans sweet corn (not cream style)
Three potatoes chopped small
One onion, diced
One cup instant mashed potatoes
Four or five strips of bacon, diced
Half stick of butter
Salt or soy sauce to taste
Black pepper
Parlsey flakes
Fry the bacon in a soup pot or Dutch oven, then sautee the onion. Add three cups hot or boiling water and add the potatoes, simmering until they are cooked (microwaving the potatoes for five minutes greatly reduces the cooking time). In a separate bowl add water to one cup of instant mashed potatoes until it's runny, then spoon it in and stir. It disappears, but thickens the soup. Add corn, including all the liquid in the cans, and spices. I add a few more cups of water until the soup pot is pretty full. Simmer, then add the butter and the fish about 10 minutes before serving. The fish cooks fast. Serve with bread.
---
Subscribe to be notified about new issues
Receive a monthly notice about new issues and articles.