Alaska Fish & Wildlife News

April 2007
Invasive Northern Pike Targeted
in Caring for the Kenai Project
By Tammy Davis
Northern pike are a problem in Southcentral Alaska and this winter Nikiski High School sophomores Tyler Bethune and Alex Ross decided to take the offensive on this invasive species.
The students were looking for a project for the annual Caring for the Kenai competition. Caring for the Kenai (CFK) is a nationally recognized, environmentally focused contest that invites school students of the Kenai Peninsula to answer the question, "What can I do, invent or create to better care for the environment on the Kenai Peninsula?" At Nikiski High School, students work on their projects as part of their science studies and English classes. In addition to the science and writing skills required, CFK finalists must prepare a presentation to a group, field questions, and be articulate when discussing their work.
Nikiski High School science teacher Phil Morin calls it, "Cross curricular, high-end inquiry based learning." He likes his students to create projects that are real, and to explore what can be accomplished. He hopes students will come up with CFK projects that can be translated to other communities with similar environmental concerns. Morin believes, "You're never too young to make a difference!"
Ross and Bethune decided they could turn their love of angling and their concern about northern pike into their Caring for the Kenai project. In order to save their favorite fishing grounds, they would host a derby-type contest to catch northern pike in Stormy Lake.
"We chose Stormy Lake because the pike are eating Arctic char and Rainbow trout," Bethune said. "I am an avid fisherman and I like to catch rainbows. If we don't get rid of the pike, they'll eat all of the trout in Stormy (Lake) and the pike might move from the lake into the Swanson River, where they will devour the salmon that we love."
With assistance from Alaska Department of Fish and Game (ADF&G) fisheries biologist Rob Massengill and area management biologist George Pappas, the students looked into solving an ecological problem of aquatic nuisance fish species introduced into waters outside their native range.
Introductions of invasive, non-indigenous species cause considerable environmental and economic damages. It is widely agreed that when a non-native species is introduced to a new system there is a range of negative impacts that can take place. These include shifts in biodiversity and loss of biodiversity, shifts in trophic structure and nutrient cycling; alteration of habitat structure; competition for space and food; and disease transmission.
Northern pike (Esox lucius) are native to Alaska's Interior waters north and west of the mountains of the Alaska Range, and fresh waters in the Bristol Bay region. Here they do not pose ecological problems; indeed, they are an important subsistence food and sport fish species. But when introduced to water bodies outside their native range, the highly predacious pike can reduce a closed system lake from a diverse ecosystem to a pike-only fishing hole.
In the 1950's pike were illegally introduced into Bulchitna Lake in the Yentna River drainage. Since then, high water events provided passage for pike to enter the Susitna River drainage, and in time, led to the establishment of viable populations in Southcentral. Additional illegal transport of pike to water bodies outside their native range has allowed for their proliferation and has accelerated population expansion into lakes and river systems that contain native and hatchery-produced fish. All five species of pacific salmon, as well as rainbow trout, Arctic char, Arctic grayling, Dolly Varden, burbot and whitefish reside in these systems and share habitat with pike for part of their life cycle.
Because of their predatory feeding habits, pike have wiped out populations of stocked fish in Southcentral lakes. Lakes with abundant pike populations are no longer stocked by ADF&G because it is not cost effective. If left alone, pike populations could have a similar effect on our native salmon populations. Alaska's resident fish are at risk.
Ross explained, "At first I didn't know it was such a big deal. But one pike can release over 20,000 eggs, and if 70 percent hatch, they can have a huge effect on rainbow trout and coho salmon populations."
The students came up with the plan to hold an ice fishing derby so that participants could catch as many pike as possible to reduce their numbers. To get the word out about their contest, they contacted KSRM radio and the Peninsula Clarion; both donated advertising space. The boys developed flyers that they posted around their community. They contacted local businesses to donate prizes for the anglers who caught the biggest fishes. Trustworthy Hardware and Fishing in Soldotna donated tip ups, jigs, ice fishing poles, spearing decoys and fishing hooks for kids.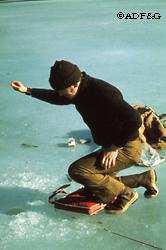 When their big day came, the weather was cold and grey, and though they hoped for a good turnout, they weren't sure how many people to expect. The morning started out slow, but by noon there were 35 people ice fishing.
"Part of our objective was to make this a family-oriented event; we were targeting youth to come ice fishing," said Ross. "We thought maybe 20 people would show up, but by the end of the day 72 had come, and 21 of them were twelve (years old) or younger, but only one pike was caught!"
Since only one fish was caught, that lucky angler and his family took home the entire winnings. The winning fish was a female about 4 years old, 21 ½ inches long and weighed in at 3 ½ lbs. Rob Massengill assisted Bethune and Ross as they took scale samples to be used in determining the approximate the age of the fish.
Although the primary goal of the "derby" was to catch as many pike as possible, and only one fish was caught, both boys felt that the event was a success. Ross relayed what he'd learned from Massengill, "There is a good chance that the fish were not active because the oxygen levels in the water get to be below average this time of year. When the oxygen levels are the low, the fish chill out and don't move around much."
Bethune agreed. "We were psyched, we plan on doing it again next year, a little earlier, when the fish are more active," he said.
Caring for the Kenai projects were judged during March and the top 12 finalists were selected. Ross and Bethune have been selected in that group of finalists. Whether or not they win first place in the contest, they agreed that learning about pike, their habitat and invasive behavior, and then hosting a derby-type contest was a great learning experience.
Tammy Davis works for the division of sport fish at the Alaska Department of Fish and Game. Based in Juneau, she addresses the problems of invasive species.
For more information on invasive pike in Alaska, see:
http://www.adfg.alaska.gov/index.cfm?adfg=invasivepike.options
http://www.adfg.alaska.gov/static/species/nonnative/invasive/pike/pdfs/invasive_pike_management_plan.pdf
---
Subscribe to be notified about new issues
Receive a monthly notice about new issues and articles.