Alaska Fish & Wildlife News

December 2005
Soupe de Poisson
Fish Soup
By Tammy Davis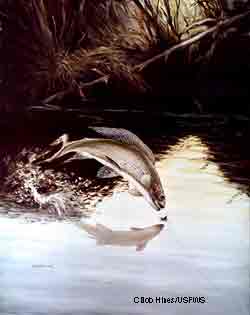 Delicious on a cold evening after a day on the trail, or a wonderful first course to a full traditional meal of several courses.

Fish Stock
5 salmon heads (frozen work great)
1 tbsp olive oil
1 large onion
2 carrots
2 stalks of celery- (best if leaves are on the stalk)
3 stalks of fennel – fronds trimmed for bouquet garni
7 cups water
bouquet garnish of 2 bay leaves, 3 sprigs thyme, 3 springs of parsley, several sprigs of fennel fronds-tied with twine
Chop onion, carrots, celery and fennel and sauté in oil until onions are translucent. Add fish heads, water and bouquet garni. Bring to a boil, boil for five minutes- skimming any foam from the top. Reduce heat to simmer. Simmer stock for 30 – 45 min. Fish heads should be falling apart. Cool stock enough to strain without burning yourself. Look for the fish eyes- they are the best eating in some cultures! Discard all but the broth.
FISH SOUP
2 tbsp olive oil (extra virgin)
2 tbsp butter
2 yellow onions- peeled and chopped
3 leeks-white part only- chopped
6 cloves of garlic- smashed with a knife and rough chopped
1 medium or 2 small fennel bulbs- cored, trimmed and chopped
2 carrots- chopped
2 stalks of celery- chopped
1 cup white wine
2 small or 1 large zucchini-sliced lengthwise into quarters and then chopped
14 oz. can of plum tomatoes
1/4 tsp. white pepper
Pinch saffron, crumbled
1 tsp. fresh thyme
1 bay leaf
salt and black pepper to taste
7 cups fish stock
3 pounds of halibut or de-boned salmon steaks (frozen work great)
Garnish
¼ cup fresh basil- finely chopped
½ cup of grated parmesan or romano cheese
Heat oil and butter in large stock pot; add onions, leeks, garlic and sauté on medium until translucent (5 -7 minutes). Add fennel, carrots, celery and continue sautéing until carrots begin to soften (5 -7 minutes). Add white wine and simmer until wine reduces by half. Add can of tomatoes, zucchini, white pepper, saffron, thyme and bay leaf and simmer for 5 minutes more, stirring occasionally. Add fish stock, bring to a gentle boil and reduce heat to a simmer. Let simmer 25 to 30 minutes. Add salt and black pepper to taste.
Slice fish into 1-inch by 1-inch chunks- sear in a hot cast iron skilled just to lightly brown the flesh. Avoid over cooking or the fish will fall apart. Add fish to the stock pot and simmer for 15 minutes or until fish is cooked through.
Ladle soup into bowls and garnish with fresh basil and parmesan cheese
---
Subscribe to be notified about new issues
Receive a monthly notice about new issues and articles.