Alaska Fish & Wildlife News

June 2004
Volunteers Teach Bear Safety to Kids

By Lilly Goodman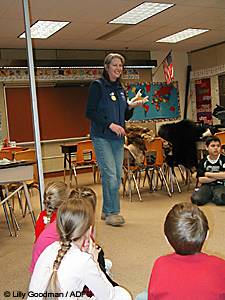 Sometimes it helps to think like a bear.
"Who here is really hungry?" asks wildlife volunteer Sandy Dickinson, facing a group of 3rd graders. The hungriest student is awarded an imaginary plate of her favorite meal, which is immediately stolen away by an intrepid classmate, much to the chagrin of the would-be drooling student.
The "hungry student demonstration" is one of the many activities Dickinson uses to illustrate why a bear might become aggressive towards humans. In this case, the bear might be protective of its food.
Sandy is one of five Fish and Game volunteers trained by Wildlife Education Specialist Lilly Goodman to provide bear natural history and safety presentations to elementary school classrooms in Anchorage, Palmer and Wasilla. Sandy and the other volunteers visit schools once a week, usually providing three back-to-back presentations. At the end of each presentation, students are awarded a Bear Aware Certificate and a bear safety reminder sticker.
"It's wonderful to see how excited and happy the students are to learn about bears," Dickinson said. "That's the fun part – to see the kids soak in the knowledge".
Since October 2003, Dickinson has presented natural history lessons to more than 45 classrooms in the Palmer and Wasilla areas. In Anchorage, wildlife education volunteers have presented to 80 classrooms--a total of more than 3,000 students. Thank you letters and drawings from the students are piling up in the Fish and Game office.
"At first I thought it was cool when a bear came to my house and got into the trash cans because I got to watch it. Now I know to put the trash can away" wrote one student.
Another wrote: "I learned that when you're hiking, you should talk all the time so the bear will know you're there. I also learned that you should never get too close to a bear"
"I learned a brown (bear) has long claws. Black bear has short claws. Black bears are my favorite bears" wrote still another student.
The volunteer program will continue next school year, with the addition of programs about wood frogs and moose. New volunteers will be selected in the fall.
Wildlife volunteers are not paid but receive opportunities for continuing their wildlife education. They are encouraged to attend teacher workshops that Fish and Game sponsors, as well as participate in other wildlife education training events.
"The volunteer program has been a huge success," reports Robin Dublin, statewide wildlife education coordinator. "We've reached more students than ever imagined, with limited resources. They've learned how to live safely with bears."
---
Subscribe to be notified about new issues
Receive a monthly notice about new issues and articles.