Alaska Fish & Wildlife News

April 2023
2023 Alaska Bird and Wildlife Festivals

By Riley Woodford
A number of birding and wildlife festivals are planned in the coming months. In many cases, planning is still underway and specific presenters are being finalized, but most festivals will feature guest presentations, birding outings, youth activities and guided walks and tours. Check with specific festivals regarding advance registration, travel and lodging details, and ancillary outings through local guides and marine transporters which include additional charges.
Alaska Hummingbird Festival
April 7 – 29, 2023 Ketchikan Southeast Alaska Discovery Center
The rufous hummingbird is the most widely distributed hummingbird in North America, and the most common hummingbird in Alaska (Anna's hummingbird is the only other, and a rare visitor at that). The rufous migrates to Alaska every spring, traveling up the coastline from the Pacific Northwest, arriving in Alaska throughout April.
The Alaska Hummingbird Festival celebrates the return of rufous hummingbirds to the Tongass National Forest. The Southeast Alaska Discovery Center serves as the hub for a series of events, including a juried art show opening at 5 pm April 7 highlighting birds, bird habitat, and bird migration. Artwork will be on display at the Discovery Center through June 30, 2023.
Scheduled activities include Saturday morning guided bird walks, the Friday Night Insights lecture series, and Earth Day activities at the Discovery Center. All programs and activities are free to the public.
For more information contact Hazel Brewi at 907-228-6246 or hazel.brewi@usda.gov
Spring Migration Celebration
Saturday, April 29, 2023, Noon-4 pm
Fairbanks, Creamer's Field, organized by the Friends of Creamer's Field
A visit during late April offers great viewing opportunities for Trumpeter Swans, Canada Geese, White-fronted Geese, and various species of ducks. Activities include birdwatching, wildlife viewing, guided nature walks, and crafts for school-aged children.
For information visit the Friends of Creamer's Field website
Friends of Creamer's Field: 907-978-8457
The Stikine River Birding Festival
April 28-30, 2023 Wrangell
Friday – April 28
8:00 am Bird Banding at Volunteer Park for schools
6:30 pm Keynote Speaker - John Marzluff: "Think Like a Raven"
"Think Like a Raven" is a culmination of John Marzluff's collaborative work detailing the intertwined lives of ravens, wolves, pumas, and the people that visit and live around Yellowstone National Park. The presentation follows the seasons of Yellowstone and the scientific journey he undertook to decode the mysteries of raven life. Location: James & Elsie Nolan Center. More information on John Marzluff.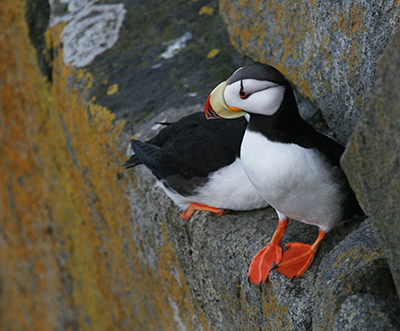 Saturday -April 29
7:00 am Early Birds Walk - Join Bonnie Demerjian on a morning bird walk to identify birds by sight & sound. All ages welcome! Location: Muskeg Meadows Golf Course
8:00-10:00 am Bird Banding at City Park - Watch bird bander Gwen Baluss mist net and band songbirds to track their migratory flight, stop by any time 8-10 am. Weather dependent (can be canceled due to rain/wind). Location: City Park (near the Community Garden)
Time TBA: International Biologists Presentations - Learn about shorebird conservation from biologists from Chile and Mexico.
Time TBA: Native Plants Workshop with Meda DeWitt
6:00 pm Ducks Unlimited Fundraiser Banquet at the Stikine Inn - Join DU for Raffles, Auction & Dinner. Contact Denny (907-660-7171) or Keene (907-874-3877) for tickets. Tickets: $50 per person. Location: Stikine Inn Restaurant
Sunday - April 30
10:00 am Angerman's Inc. Golf Tournament - Sign up by 9:30 am. Cost: $25 cash entry fee Location: Muskeg Meadows Golf Course
4:00 pm - Free Documentary Movie - Location: Nolan Center Theater
For more information, contact 800-367-9745 or visit the Stikine River Birding Festival website.
Wrangell Convention and Visitor Bureau, 800-367-9745, in Alaska 907-874-2829
Kachemak Bay Shorebird Festival
May 3 -7, 2023 Homer
The Homer- based festival is located on the beautiful shores and waters of Kachemak Bay. With more than 100,000 shorebirds migrating through in early May, this event celebrates the return of spring and migrating birds. Since 1993 the Kachemak Bay Shorebird Festival has offered great birds, excellent guiding, educational seminars and workshops, and children's activities to thousands of birders of all ages and all skill levels. Kachemak Bay provides miles of shoreline and intertidal habitat for migrating birds. Kachemak Bay's unique ecology, easy accessibility to beaches, and the scenic landscapes of Homer make this a prime location to experience this annual migration. During the 2022 Kachemak Bay Shorebird Festival 134 bird species were identified.
Discover festival opportunities, register for festival events, download the program, and get updates at kachemakshorebird.org.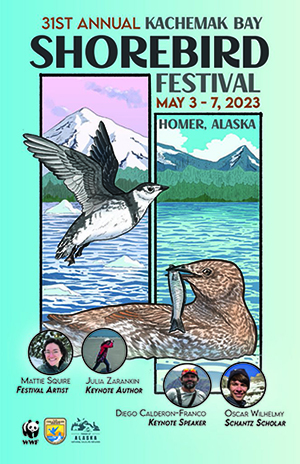 The keynote speaker is Diego Calderon a biologist from Colombia and the featured author is Julia Zarankin
Sponsoring Organizations: Homer Chamber of Commerce and U.S. Fish and Wildlife Service, The Friends of Alaska National Wildlife Refuges and Alaska Maritime National Wildlife Refuge.
Shorebird Festival coordinator Melanie Dufour: 907-226-4631 Kachemakshorebird@gmail.com
32nd Annual Copper River Delta Shorebird Festival
May 4 -7, 2023 Cordova
In-person attendance: Early bird registration is $100 until April 30 - includes all presenters, classes, guided in-person birding, reception, discounts on third party classes and field trips, and more. $25.00 for in-person student attendees aged 13-college. Children 12 & under are free, but please register so organizers have an accurate count of attendees.
Presenters and guides include artist, naturalist and educator John Muir Laws, local experts Mary Anne Bishop, Kate McLaughlin, and Aaron Bowman; and international shorebird biologist River Gates. Presentations will also be delivered by Monica Inglecia (U.S. Coordinator for Pacific Birds Habitat Joint Venture), Rod Kelsey (oversees California's Rewilding the Central Valley Strategy), wildlife biologist Erin Cooper. Birder Chris Webber will share adventures from his "Big Year." Also presenting is Ivo Tejeda (Executive Director of the Red de Observadores de Aves y Vida Silvestre de Chile), a naturalist organization whose objective is the protection of birds and nature in Chile. The keynote speaker is wildlife photographer, author and cinematographer Gerrit Vyn .
The Blackwater Trio will perform a concert Saturday evening.
The birds are migrating north and will still be filling Hartney Bay, Alaganik Slough, and the surrounding Chugach National Forest, feeding and resting as they head to their breeding grounds.
https://www.coppershorebird.com/
Call 907-424-7260 or email FESTIVAL@COPPERSHOREBIRD.COM
Yakutat Tern Festival
June 1 - 4, 2023 Yakutat
This year's festival features Keynote Speaker Tory Elmore, from Alaska Audubon. Tory Elmore is a GIS analyst and app developer who worked with partners in 2019 to launch the Southeast Alaska Birding Trail, a virtual guide to 200 birding hotspots across the Alaska Panhandle. Alaska Audubon is re-launching the birding trail with a new web and mobile application, making planning a trip and visiting the birding trail easier and more accessible than ever. Tory Elmore will share what's new with the birding trail and demonstrate the exciting new application.
The featured artist is Dustin Newman Unignax, an Unangax and Deg Hit's Athabascan artist, kayak builder, storyteller, and dancer. He will be sharing his art and culture with Tern Festival goers this year, through workshops for both kids and adults, bringing a unique and valued cross-cultural connection to Yakutat.
Photographer Don Kluting will lead a photography workshop.
Bird banders, supporters and field trip leaders include Denise Turley, Gwen Baluss, John Zarnetske, Mary Beth Wright, Amy Beich, Laura Woodword and Brady Skidmore.
12th Annual Yakutat Tern Festival
Alaska Bearfest
July 26 - 30, 2023 Wrangell
Presenters include bear biologists and researchers. Opportunities are available to travel to Anan Creek for bear viewing, up the Stikine River, and to the LeConte Glacier. Wrangell offers a number of opportunities for viewing other wildlife - bird, whales and marine mammals - as well as bears. Excursions can be easily set up with local operators during the festival. Free guided nature and bird watching walks will be offered. Covid precautions will be in place, and live events will be held.
For more information and to contact Bearfest: 907-874-2998
See Anan Wildlife Observatory website
Tanana Valley Sandhill Crane Festival
August 18 – 20, 2023 Fairbanks
Sponsoring Organization: Friends of Creamer's Field and Arctic Audubon Society
Each August, thousands of sandhill cranes begin their southward passage from Alaska and Siberia and the Tanana Valley rings with gathering calls. One of the best places to catch this spectacle is at Creamer's Field Migratory Waterfowl Refuge in the heart of Fairbanks, Alaska where daily sandhill crane tallies regularly top 1,000. The best time to enjoy fall staging is late August and early September.
The festival includes talks, bird watching, nature walks, workshops and many other related activities with ample opportunities for observing cranes and other fall migrants.
Video on Sandhill Cranes at Creamer's Field with ADF&G biologist Mark Ross
For information visit the Friends of Creamer's Field website or call 907-978-8457
Alaska Bald Eagle Festival
Dates for 2023 To Be Announced, typically in early November Haines
Sponsoring Organization: American Bald Eagle Foundation.
Eagle viewing within the Chilkat Bald Eagle Preserve - along the Chilkat River from many stops on the Haines Highway (10 mile to 26 mile, with biggest concentration between 19-23 mile). In some years more than 3,000 eagles gather along the four-mile stretch of the Chilkat River north of Haines in the fall to feed on a late run of salmon. This wildlife spectacle is the largest gathering of eagles in the world. The peak of the gathering usually occurs in mid-November.
Events are at the American Bald Eagle Foundation Raptor Center and Natural History Museum at the intersection of Second Street and the Haines Highway. The center has live raptors on site, (eagles, owls, falcons and hawks), and museum exhibits. Specifics are pending; typically there are presentations and featured speakers.
For information contact Director Cheryl McRoberts 907-766-3094
Website will be updated as presenters and events are confirmed.
More on the Chilkat Bald Eagle Preserve
---
Subscribe to be notified about new issues
Receive a monthly notice about new issues and articles.