Alaska Fish & Wildlife News

October 2022
Upgraded Fairbanks Shooting Range Re-Opens

By Jim Curcuruto
To play baseball you need a field. To practice or compete with a firearm, you need a locally accessible shooting range and state wildlife agencies, including the Alaska Department of Fish and Game (ADF&G), are stepping up to the plate and addressing this necessity.
The need for target shooting ranges has grown as the number of firearms owners increased over the past decade, nationwide, and participants are more diverse than ever. Recent research by Responsive Management in 2019 revealed that participation in target shooting increased 63 percent from 34 million participants in 2009 to 56 million in 2020. Since the start of the Covid pandemic in March 2020, 10 million Americans purchased their first firearm. They are buying rifles, shotguns, and handguns for hunting, target shooting, and protection. Regardless of their use, the owners need local ranges to become familiar and proficient with their new firearms.
To meet this growing demand, state fish and wildlife agencies have, over the last four years, built 28 new ranges and completed 137 range upgrades/expansions that are available for public use. These projects were all funded by excise tax dollars collected from manufacturers of firearms, ammunition and archery products through the Wildlife Restoration (Pittman-Robertson) Act.
The Fairbanks North Star Borough, South Cushman Shooting Range in Fairbanks is a fresh example. For many years the range has been a staple for recreational target shooters, hunters looking to zero in their rifles prior to moose and caribou hunts, and the University of Alaska Fairbanks Rifle team. The range is visited more than 100,000 times each year, and with that comes plenty of wear and tear.
ADF&G and the Fairbanks North Star Borough Parks and Recreation Department (PRD) commenced range renovation planning in 2019 that started with a wish list of improvements. Access and safety figured prominently.
"We knew we had a special opportunity to provide users with a new and improved facility that they would be excited about visiting," said Brian Charlton, PRD Superintendent. "Our list of enhancements was long, but we focused on improving safety, accessibility, amenities, and providing classroom space."
Renovations include a new rifle range shelter roof, refurbished shooting benches, Americans with Disabilities Act (ADA) compliant benches, hard surface pathways, new and ADA-accessible parking areas, concrete ADA accessible paths connecting firing lanes to the restroom and parking, a concrete vault toilet, side berms at the rifle range to protect those using the pistol range and surrounding areas, and a center berm at the rifle range to create two separate and improved areas for hunter education and other training. Total estimated project cost: nearly $1.3 million.
"Our agency was able to provide approximately 75 percent of the funding by utilizing Pittman-Robertson dollars," said Eddie Grasser, ADF&G Division of Wildlife Conservation Director. "We needed to come up with the remaining 25 percent in match funds and the North Star Borough was able to provide that. It is a terrific example of how partnerships can get more accomplished than what could have been done individually."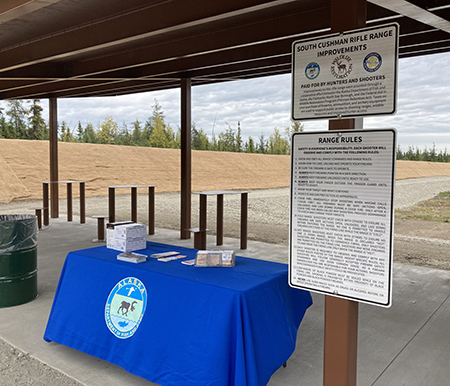 "With so many hunters in Alaska, the U.S. Fish and Wildlife Service, Wildlife and Sport Fish Restoration Program is pleased to have been able to assist our partners in making an upgraded and safer range facility available in time for hunting season. The Wildlife Restoration program funds not only shooting ranges, but research and management of thousands of species across the nation – all funded with excise taxes from hunting and shooting supplies" said Sheila Cameron, the Alaska Regional Manager of the Wildlife and Sport Fish Restoration program.
The range held its grand re-opening Aug. 24, 2022 and was opened to Fairbanks community use on Aug. 26, 2022 appropriately, during National Shooting Sports Month.
"Next summer the entire parking area will be paved, the pistol range shelter will be painted, and possibly one or two other minor details done," said Katie Sechrist, coordinator of the Hunter Access Program for ADF&G.
More good news lies ahead. ADF&G plans to upgrade the Alaska State Parks Stiles Creek Shooting Range in the Chena River State Recreation Area next year.
The supply of shooting ranges must meet demand. Many state wildlife agencies are taking advantage of Wildlife Restoration funds and there are several dozen new range projects nationwide in progress in 2022 and more are planned.
To find a range near you check your state wildlife agency website or visit www.WhereToShoot.org. Be sure to ask someone new to come along on your next trip to the range.
Jim Curcuruto is the Executive Director at Outdoor Stewards of Conservation Foundation.
---
Subscribe to be notified about new issues
Receive a monthly notice about new issues and articles.