Alaska Fish & Wildlife News

November 2021
Alaska Has Wild Wonders
Wildlife Outreach Directly to Students
By Jen Curl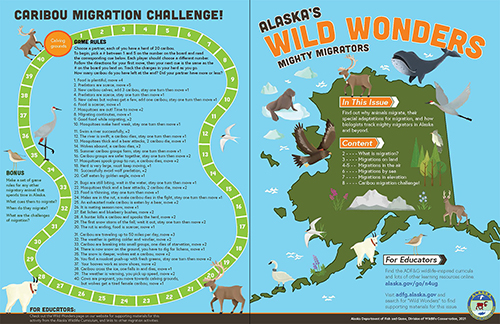 You are a caribou herd, migrating over the course of the year. You must forage, escape predators, swim rivers, survive hordes of insects, weather storms, and always keep moving. Will your numbers grow or shrink? How many of the herd will survive? How many calves will be added during calving season?
A one-year foray into the life of migratory caribou became an interactive activity on the back page of the most recent issue of Alaska's Wild Wonders, the annual magazine designed and produced by educators with the Alaska Department of Fish and Game. The title of the 11th issue is Mighty Migrators and highlights lots of different species and types of migration, including caribou. Each of the previous 11 issues – this 2021-22 school year will make the twelfth – features a back cover full of interactive questions, activities, and hands-on learning for kids in classrooms across the state.
Alaska's Wild Wonders is filled with natural history and real examples of research and management work done by ADF&G biologists and staff. For Kristen Romanoff, Program Coordinator of the statewide Wildlife Education and Outreach Program, the appeal of making a student-focused magazine like Alaska's Wild Wonders is to follow in the tradition of nationally produced nature periodicals like National Geographic Kids or Ranger Rick, but to make it specific to Alaska.
"Wild Wonders is more like getting to read a good book, something that both teachers and students get excited about arriving in the mail each year," she says. Although, Wild Wonders is also available online – PDFs of each issue are free to download, and a suite of additional resources are located on the webpage for each issue (see link at the end) for teachers who are looking for even more.
In 2020, for example, with many schools operating remotely and educators and parents looking for more hands-on activities to do at home, Wild Wonders focused on wild foods that could be found and foraged for in a diversity of ecoregions across the state. The goal was to encourage students, wherever they were, to get outdoors and see what they could find in their own backyards. The issue was made to be cut apart into game pieces that were useful for many different activities and games, either at home or at school. It also featured an online version of the same activities, giving teachers the option to use what works best for their individual teaching set-up.
Wild Wonders began a little more than a decade ago. The Wildlife Education and Outreach program is small – and the demands are large. Producing educational resources for K-12 teachers and classrooms is only one of the many ways that the Wildlife Education staff communicates to the public. Wildlife outreach also includes creating publications and short video documentaries on wildlife research and management, teaching adult/youth outdoor skills classes, managing the department's wildlife-focused social media pages, and coordinating public presentations. Most K-12 education efforts are focused on reaching as many students as possible by making resources available to teachers – developing and promoting curriculum guides, creating and managing educational kits for check-out, and offering professional development for teachers. Wild Wonders has created a unique opportunity for wildlife educators to reach out directly to students, while still engaging teachers in the process.
Approximately 15,000 students across hundreds of communities throughout Alaska receive a copy of Wild Wonders each year, all facilitated through a teacher subscription service, that is free to any Alaska educator. Class sets are mailed out in September to coincide with the start of the new school year. The Wildlife Education and Outreach program does not generally promote this service – instead, most new subscriptions come from word of mouth amongst educators. "Every year, my students love getting these magazines, and my fellow educators love getting any extra copies shared with them to use. I hope this publication can continue to be a highlight every year" shares a fifth-grade teacher from Kotzebue.
Wild Wonders is targeted to an upper elementary reading level, but the fascinating facts and inclusion of more advanced vocabulary makes the material relevant and expandable to an older audience. Every year, adults enlisted to help review Wild Wonders, which include ADF&G staff, say they learn a thing or two when they read an issue.
The overall goal of Wild Wonders is to not just to reach out to students with interesting information about wildlife in Alaska, but also to help teachers build units around a topic, come up with ideas for additional activities, and access existing resources such as web pages, educational kits, and teaching guides. Several issues have themes designed to coincide with kits or highlight curriculum resources, such as the Alaska Wildlife Curriculum, or shorter guides focused on topics like fur, skulls, or bears. Brenda Duty, the Alaska Wildlife Curriculum Coordinator for ADF&G, emphasizes that Wild Wonders incorporates literacy and math into its focus on science, ecology, and the outdoors. She hopes each issue gives teachers new and innovative ways to tackle existing requirements and standards, while encouraging student-led inquiry, time outdoors, and developing relationships with the natural world. Brenda also says with a broad smile that she hears constantly from teachers that students really enjoy every issue.
Wild Wonders is available to anyone – it is not just for teachers or students. If you or your kids want to take a walk through many types of wetlands, start learning about animal tracks, marvel at the unique and amazing adaptations that allow species to thrive in Alaska, or learn a bit more about what ADF&G biologists are doing in the field, Alaska's Wild Wonders is a great place to start.
All previous issues of Alaska's Wild Wonders are available as PDFs on the Wild Wonders webpage. All curriculum guides are available free online on the ADF&G Education website, or hard copies can be purchased. Each regional ADF&G office has kits for check-out, including mail-out options for remote communities.
Statewide educational kit page
Jen Curl works for ADF&G in Fairbanks as part of the Wildlife Education and Outreach program within the Division of Wildlife Conservation, and has designed the layout and edited Wild Wonders for the past three years.
---
Subscribe to be notified about new issues
Receive a monthly notice about new issues and articles.