Alaska Fish & Wildlife News

December 2022
Darren Bruning: Wildlife Professional of the Year
Working for Wildlife from Nebraska to Alaska
By Riley Woodford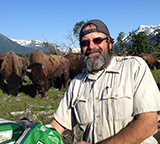 Darren Bruning, a biologist with the Alaska Department of Fish and Game, has been named Wildlife Professional of the Year by the Western Association of Fish and Wildlife Agencies.
The award recognizes a wildlife professional who has made the greatest contribution to the management, protection or enhancement of fish and wildlife resources. For Bruning, it encompasses a career of contributions in all three categories. From Nebraska to Alaska, his work with bison, deer and elk, river otters ... Darren Bruning Article Continued
---
Ammo and Eagles

By Arin Underwood and Riley Woodford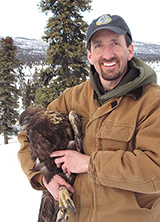 Sharp-eyed scavengers like eagles are quick to spot the remains of a successful hunt. Gut piles left by hunters are an easy meal to peck into and a good food source during the high energy needs of a cold winter. But there's more to those piles than guts.
Travis Booms is a life-long hunter from a Wisconsin family with a strong hunting tradition. He's also a raptor biologist with Alaska Fish and Game and has studied raptors for more than 25 years. Last year he and his colleagues ... Ammo and Eagles Article Continued
---
Women in Wildlife Science
Building Equity, Diversity and Inclusion
By Riley Woodford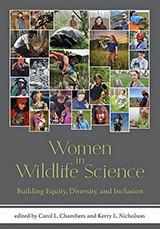 The importance of wildlife diversity in a healthy ecosystem is a familiar concept to wildlife scientists. Many of these scientists are trying to make diversity in the profession a reality as well.
Among them are Kerry Nicholson and Carol Chambers, who published Women in Wildlife Science: Building Equity, Diversity and Inclusion, in October 2022. The new book addresses the challenges that women and minorities face in the wildlife profession and is dedicated to making positive changes. ... Women in Wildlife Article Continued
---