Alaska Fish & Wildlife News

April 2022
A Tern of Events
Alaska's Elusive Aleutian Tern
By Arin Underwood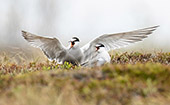 Seabirds are one of my favorite groups of wildlife in Alaska. Living in Kodiak and traveling via skiff, I loved seeing murres and cormorants standing sentry on the rocky islands, and puffins and seagulls erupting from the water as we drove by. Studying puffins later in my life, I appreciated how seabirds create a link between ocean and coastal ecosystems in the north. Seabirds migrating north bring the resources of warmer southern oceans, and the food and nutrients they provide the shoreline ... Aleutian Terns Article Continued
---
Jeff Jemison
A life well lived
By Riley Woodford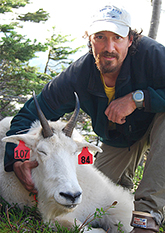 Jeff Jemison's easy going, good nature was always welcome, whether he was handling bears or bear-watchers, mountain goats or goat hunters. He was happy to see you – if you were a hunter ed student at the Juneau Indoor Shooting Range, where he worked in recent years – or an unsuspecting moose on the Gustavus Forelands, about to be darted and set up with an attractive GPS collar. For two decades Jeff's enthusiasm, hard work and love of the outdoors were greatly appreciated ... Jeff Jemison Article Continued
---
Alaska's Super Seven Big Game Raffle

By staff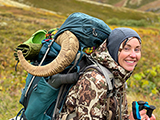 Alaska's Super Seven Big Game Raffle is a chance to win permits for some of the most sought-after hunts in Alaska.
The permits will be awarded for the Fall 2022 / Spring 2023 hunting season. The cost is $20 per ticket, or seven tickets for $100, or 40 tickets for $500. A single ticket provides a chance for one hunt (one species). Multiple tickets may be purchased, there is no limit, and they may be entered all in one hunt or in a combination of hunts. An individual may win more than ... Big Game Raffle Article Continued
---
New Opportunity to View Bears at McNeil River

By staff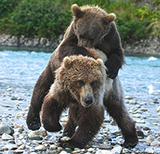 A special raffle provides an opportunity to visit the McNeil River State Game Sanctuary this summer.
The sanctuary is located about 100 miles west of Homer on the Alaska Peninsula. Upwards of 144 individual brown bears have been documented feeding on the sanctuary's tide flats and salmon streams during summer, with as many as 74 bears observed at one time. The Alaska State Legislature set this area aside in 1967 to protect these valuable resources. The Alaska Department of Fish and ... McNeil River bears Article Continued
---