Alaska Fish & Wildlife News

May 2020
Record Herring Event Highlights
Roe on Kelp Fishery
By Riley Woodford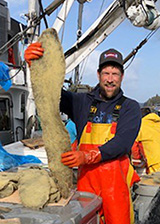 A record year for spawning herring was good news for the roe on kelp fishery.
Roe on kelp is a unique fishery - the fish are released after they are caught, and seaweed is a key part of the product, coated with herring eggs. Prized in Japan as komochi konbu, it is served in sushi or as a small appetizer, a bite-size wafer of kelp coated on both sides with the tiny yellow-tan fish eggs. Alaskans also harvest roe as a subsistence food.
The focus of the fishery in 2020 is the south end ... Roe on Kelp Fishery Article Continued
---
Mysterious Brown Bear Appearance
and Southeast Bear Research
By Riley Woodford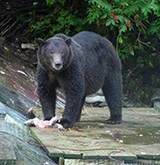 When a brown bear appeared on Douglas Island in the spring of 2017, bear biologist Anthony Crupi was well prepared to investigate its origin. Douglas is home to black bears, but brown bears are almost unheard of. In 1974 a hunter took a brown bear on Fish Creek, the only other documentation of a brown bear on the island.
Douglas Island is adjacent to mainland Juneau in northern Southeast Alaska, barely separated at the narrowest region by a tidal wetland. Crupi lives on the island and works ... Mystery Brown Bear Article Continued
---
California Sea Lion in Alaska

By Riley Woodford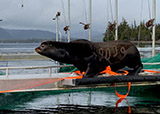 A California sea lion traded the warmer waters of Southern California for the chilly but herring-rich waters of Southeast Alaska this spring, a swim of about 2,000 miles.
Alaska fishermen working the herring roe on kelp fishery near Craig, Alaska, documented the big adult male in mid-April, 2020. His identity as a native of the Los Angeles area was confirmed by the number 9039 on his left side. He was marked by federal marine mammal researchers as a pup at San Miguel Island in in the California ... California Sea Lion Article Continued
---