Alaska Fish & Wildlife News

August 2019
Rockfish Surveys Reveal Undersea Realm
The Bottom-Fish-Eye-View of the Seafloor
By Riley Woodford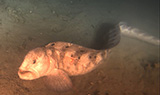 The big, toothy wolf eel seemed to glare at the camera as it was illuminated by the twin headlights of the underwater survey vehicle. Another video clip shows a small, startled octopus darting toward and then under the vehicle, squirting ink as it goes. Other footage shows dozens of rockfish schooling amid undersea boulders.
State fishery biologists Kellii Wood and Erica Ebert, based in Petersburg, captured the video as they conducted surveys of yelloweye rockfish in the waters off the ... Rockfish Surveys Article Continued
---
Bird Hunting and Sharing a Wing and a Tail
New Guide Highlights Small Game Hunting
By Rick Merizon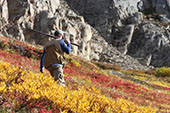 Hard to believe, but another summer is slipping away and ushering in cooler temperatures and a long list of chores that remain undone. Summers in Alaska seem to move at a pace that far outruns any other season. However, don't be forlorn. One of the best times of the year is upon us. The end of tourist and construction season is fast approaching and soon leaves will begin to turn a fiery yellow and sift down from the tree tops. It will soon be time to continue ignoring the long list of chores, ... Sharing a Wing Article Continued
---
The Alaska Wildlife Curriculum

By Brenda Duty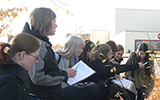 As a member of the Alaska Department of Fish and Game's wildlife education program I was asked to share the department's education resources with a group of new teachers. One teacher shared the following lament: "You know, the curriculum from the school district is okay, but I wish I had something that was more about Alaska. We're different."
"Well, I may have just what you're looking for," I said. "It's called the Alaska Wildlife ... Wildlife Curriculum Article Continued
---
Moose Flies
Summer Pests Bedevil Moose
By Riley Woodford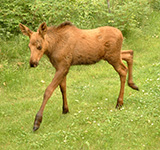 A concerned Alaskan contacted a Fish and Game biologist in mid-July regarding a weird-looking moose. This cow moose and her twin calves-of-the-year were hanging around the woman's yard outside Fairbanks.
"They napped on a wet spot next to my lawn then got hungry," she wrote. "As I chased them away from some of my shrubs I noticed that the cow's back legs were in horrible condition. When I first saw it I thought that maybe someone had shot at her with a shotgun... ... Moose Flies Article Continued
---
Meet the Beetles
Getting the Perfect Skull
By Riley Woodford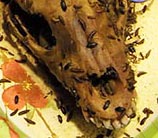 Kids are fascinated by skulls. The gleaming teeth and empty eye sockets offer intriguing clues to the skull's once-living owner. Hunters often choose to display a skull rather than a head-and-shoulder taxidermy mount, the "European mount" serving to memorialize a hunting experience. A full-body articulated skeleton is an amazing thing to behold, whether it's a human skeleton in a health class or a slinky cat skeleton in biology class.
For folks willing to handle ... Meet the Beetles Article Continued
---